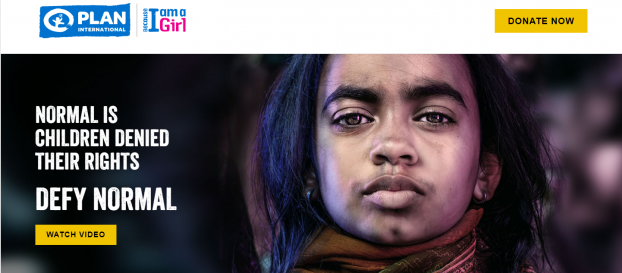 Plan International Canada launched a national campaign on Oct. 1 to raise awareness of children's rights and the equality of girls by asking Canadians to defy what they perceive as normal.
The campaign is the largest undertaken by the organization, with a larger media investment and new messaging that moves away from appealing for funds to challenging the existing status quo.
The minute-and-a-half-long campaign video starts by noting different human achievements from around the world, like scientific discoveries and technological advances. It then compares the progress achieved by mankind to a situation where children, especially girls, are left out.
"Leaving behind millions of children is seen as 'normal'," says Caroline Riseboro, president & CEO of Plan International Canada. "The campaign is a declaration that we no longer accept a normal where girls' rights are routinely denied, dismissed, or violated."
The campaign, created in partnership with Blueblancrouge (BBR) and sister agency L'Institut Idee, targets youth and potential donors between the age of 30 and 60.
This is also the first campaign for the organization which focuses on building the Plan brand. "We have done several campaigns such as 'Because I am a Girl' and 'Gifts of hope holiday,' but people don't really recall the organization behind these," says Riseboro. The campaign strategy was developed after two-and-half years of research, focus groups and testing.
The campaign also signals a strategic shift in the organization's evolution from being campaign-centred in the past to become more brand-focused today. "What has changed for us is the approach of focusing on analytics, metrics and understanding where the audience is present. The level of investment in the brand has become important," says Riseboro.
The organization conducted several focus groups across the country prior to the campaign launch, asking people what issues existing in Canada are perceived as "normal."
"The insights pointed to the fact that we've come to accept the loss of human potential and the sentiment of leaving children behind as normal," says Riseboro. "Canadians are much more worried about what happens in their own backyard and struggle to engage with global issues."
The research also showed that people were tired of hearing the same messaging about raising funds for a cause that they may not resonate with completely. "We often get asked the question, 'But what about boys and men?' You can't encourage gender equality without engaging boys. We found a high number of Canadians talking to us about this," she says. Thus, the campaign's narrative was reshaped around the message that millions of children are being left behind, including boys.
The non-profit has released a 30-second TV spot on major stations, a two-minute film airing in over 170 Cineplex screens and placements in OOH, digital boards in Dundas Square and Toronto's Financial district. The campaign is also being promoted on digital platforms via YouTube pre-roll, social media and on Plan's campaign page.