The majority of CMOs have not recently evolved their strategies: report
Senior marketers have been slow to adapt, according to new research by the CMO Lab.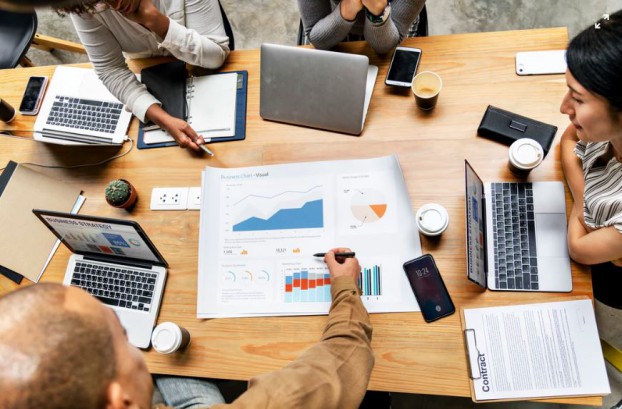 At this point, many CMOs have heard (and heeded) the oft-repeated call for a more integrated approach to brand marketing. Yet a new survey suggests that the strategy has not been embraced as widely as one might expect.
Over the last few years, only one-third (36%) of Canadian CMOs have adapted their marketing strategies in response to shifting consumer habits, according to data gathered by the CMO Lab, a joint research project between Apex PR, its digital division Ruckus Digital, and data services firm Maru/Blue. Another 53% of senior marketers in Canada said they have not evolved their strategies and the remaining 11% were unsure if they had or had not, according to the report.
Among the 36% that have evolved, many have invested more heavily in digital paid advertising (53%) and in finding a "better balance between advertising creative, digital paid programming, PR and reputation management" (53%). Forty-seven percent have increased their use of influencer marketing, while 44% have put a greater emphasis on PR.
What's more, the survey found that the majority of CMOs (60%) "opt for the 'Big Idea' versus a strategy that has thought of everything."
The research is based on an online survey of 100 Canadian CMOs and senior marketers conducted in May 2018.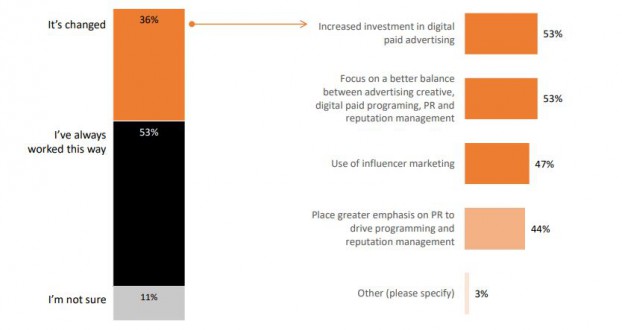 How senior markets have changed their approach in recent years. Source: CMO Lab, 2018. 

That comes as a surprise to Kenneth Evans, managing partner at Apex PR and Ruckus Digital, who has seen many companies move into integrated communications, developing that "core, overarching narrative and then articulating" it through earned media and experiential, before moving into social, digital and paid advertising. The next step in that evolution, he says, will be to move further into visual storytelling through video and design.

Indeed, Evans believed the CMO Lab's research would show many more marketers already invested in integrated strategies. He believes this is because of the persistence of silos (which take a long time to break down) and the continued bias towards more "conventional" forms of marketing and corporate cultures that are generally averse to risk. Those theories will be substantiated through a second phase of qualitative research taking place in Q4.

Brands have much to gain by involving more or all of their agency partners from the earliest planning stages, he says. Taking a more authentic approach to developing campaigns can help drive authenticity, increase engagement and, ultimately, their sales.

As an example of the benefits it can reap, Evans points to Walmart Canada, which has long been a client of his firm. When developing a new campaign, the retailer likes to involve all of its partners across creative, media, digital and PR, because the next "big idea" for a narrative can come from any one of those partners, he says. "They think about it in a comprehensive, sophisticated way."

Late last year, for example, Walmart Canada partnered with Interac on a non-branded 20-episode web series called "UpStairs Amy." At the time, Heather Cameron, senior director of marketing communications for Walmart Canada, described it as a way of reflecting the company's values in an "authentic and engaging way." A big part of the program involved supporting the unbranded series with blogs, vlogs and social content created in partnership with an array of influencers. Ruckus Digital led on media buying and social content for the series.

For Evans, it's just one example of how having different partners at the table can help craft new kinds of narratives for brands. Involving a design team early on, for example, may lead to the creation of a visual element that could spark an entire campaign.

From his own perspective in PR, he says involving the discipline can offer a certain degree of "gut check" when it comes to reputation management, a responsibility that has gradually shifted away from the corporate communications teams towards the marketing department.

It's also important for senior marketers to remember that their audiences aren't limited to customers and consumers, he says. According to the CMO Lab, many chief marketers are "consistently targeting consumers, at the expense of other critical audiences." While 64% of respondents said they "always" target customers or consumers, those numbers dropped when it came to targeting employees (43%), stakeholders (35%), social media influencers (27%) and the media (26%).