How a tattoo startup leverages Pinterest to build engagement
Inkbox has among the highest engagement rates thanks to its social strategy.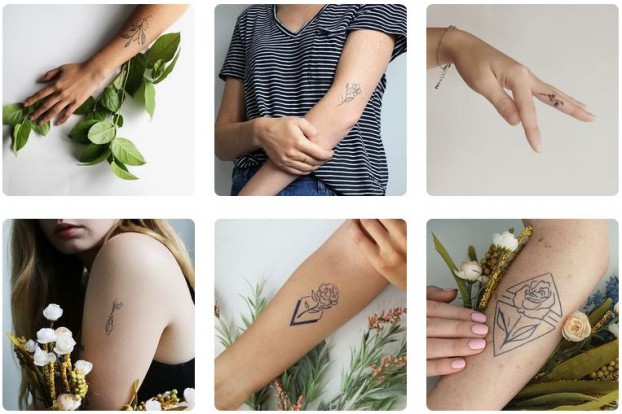 Pinterest is making a move to attract more Canadian advertisers, opening a new outfit in Toronto on Oct. 1 as part of its international expansion plans.
While the channel remains relatively small compared to behemoths like Facebook, Twitter and Instagram, big brands from Nestle to Canadian Tire have been testing the pinning waters, and at least one startup has been using it to drive upper-funnel engagement with customers.
Launched in 2015 and now shipping globally, Inkbox is a Toronto-based startup specializing in semi-permanent tattoos. Customers can select a design from its extensive catalogue (or have them custom designed in collaboration with an artist) and have it shipped directly to their home. Unlike permanent tattoos, they last approximately two weeks, making them more long-lasting than temporary ink.
To date, Inkbox has attracted the business of two types of customers, says the company's head of growth Mike Maleszyk – those who aren't comfortable with getting a permanent tattoo, but who are interested in the art form; and those on the other end of the spectrum, or "tattoo enthusiasts," who want to plan the placement or look of their next-of-many designs.
As an inherently visual product, Inkbox has leaned primarily on Instagram, but it maintains a presence on nearly all social channels, including Twitter, Snapchat and Facebook – the latter being particularly important to conversion, according to Maleszyk.
When it comes to Pinterest, Maleszyk says his team "historically kind of ignored it" as a channel, finding it to be "very much an upper-funnel and engagement-focused" platform that doesn't necessarily drive ecommerce conversion. However, Inkbox is increasingly looking to reach customers at both ends of the funnel, he says. "It's become increasingly important for us to be present on Pinterest – not just present, but prominent on Pinterest."
As such, the company recently revisited its approach and is now rolling out a two-pronged strategy that includes organic and paid posts.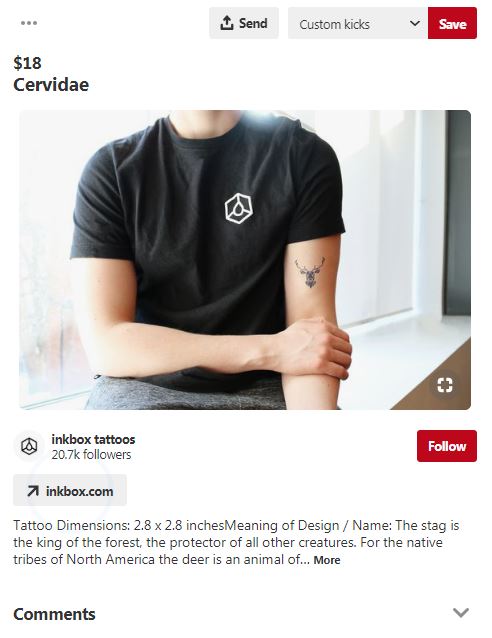 On the organic side, it boosts company-generated content twice per week to coincide with the release a new batch of designs. That content, appearing as "pins," are organized into "boards" sorted by themes, such as "In Full Bloom" (for floral designs) or "Find Your Fandom" (for fans of film and video games). In order for pins to succeed, says Maleszyk, it's critical that they be carefully crafted with Pinterest SEO in mind, including detailed product descriptions and tags.

Organic pins "gives us more content on the channel itself, and more for Pinterest to place within the tattoo category, and more for people to organically interact with," he says.

These organic efforts have influenced its approach on the paid side, which Maleszyk sees as "an emerging opportunity" for the brand: cost-per-impression and cost-per-click on the channel are relatively cheap, overall engagement is high, and while Pinterest may not drive the same amount of click-throughs to its main property as other channels, Inkbox can nevertheless leverage that traffic for retargeting.

Today, the company gets around 14 million monthly views to its Pinterest profile, more than the two to three million visits to its ecommerce site. And, according to Maleszyk, Pinterest says the startup has among the highest engagement rates among brands putting spend behind their content.

Looking ahead, Inkbox is focused on building out its ecommerce ecosystem and trying to capture customers at both ends of the customer journey. As it thinks through building retail properties – it already has one in Toronto – and adding to its online presence, Maleszyk says it may discover different ways to inform potential customers through the platform.

According to Pinterest, more than 250 million people use the platform each month, including 12 million people in Canada, who save around 4.5 million ideas on the site each day.