Chudleigh's apple pies now in freezer aisles
The family-owned farm has expanded its signature bakery products to grocery stores across Ontario as demand grows.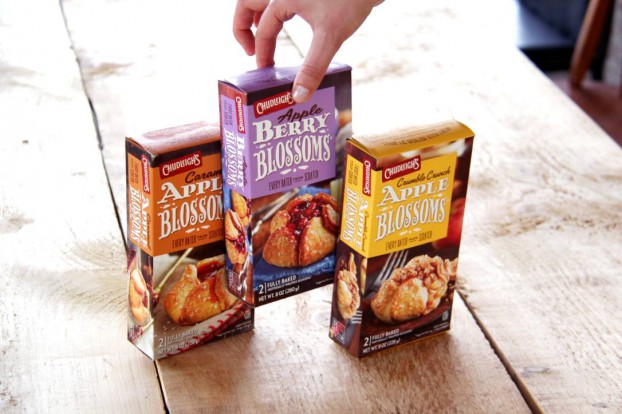 With sweet food holidays around the corner, family-owned Canadian apple farm and bakery Chudleigh's has announced the arrival of its baked goods in the freezer aisle of grocery stores and specialty retailers.
The bakery's single-serve signature pie crumble crunch apple blossoms, molten chocolate lava cake and butter toffee sticky cakes will be made available across Ontario in Metro, Food Basics, Longo's, Pusateri's, Costco, Bruno's Fine Foods and a handful of independent grocers. The frozen desserts are available in a two-pack and range between $4.49 and $5.99 per box. Each product can be reheated in a microwave in under a minute and are ready to eat.
Chudleigh's has been known to host families on its farm in Milton during apple-picking season in the summer and fall. "It was my mom, Carol Chudleigh, who first began baking apple pie for visitors to the farm," says Scott Chudleigh, co-owner of Chudleigh's. "She would bake them in our oven and serve them warm, by the slice."
"Our research suggested that for our customers, eating the apple pie was the closest way to experience our farm, taking them back to when they were kids," says Scott Chudleigh. "The frozen pie is the freshest product, as it is baked with clean ingredients, with a simple recipe and uses no preservatives."
Although Chudleigh's was born as an apple farm 51 years ago, it evolved around the mid-70s to expand into bakery with pies and cakes. Scott Chudleigh says the growing demand for freshly baked apple pies from Chudleigh's farms made the brand decide to step into frozen food aisles.
To prepare for the launch, Chudleigh's underwent a full re-brand, including its website and retail packaging, which was developed through a multi-year collaboration with Heuristic Branding.
Calling itself "experts at apple pies," Chudleigh's created simplistic packaging to ensure the quality of the desserts in freezer aisles taste the same as on the farm. The process includes peeling of apples, baking, freezing and packaging within 24 hours. "We want to keep the brand experience consistent," says Scott Chudleigh.