EDC shows the upside of risky trade
The crown corporation embraces its role in mitigating risks for small businesses looking international in a new platform.
Export Development Canada wants small and medium-sized businesses to face the risks of international trade head on.
After having helped a record number of companies do business internationally last year, the Ottawa-based crown corporation has launched a new campaign and platform that brings greater focus to its role in mitigating risk.
EDC helps businesses of all sizes grow beyond Canada's borders by providing advisory and financial services. For smaller enterprises, the decision to go global comes with a significant number of risks, says Marc-Andre Roy, VP of marketing and digital strategy, but EDC has the expertise and connections needed to make those transactions safer and easier.
A new "Bravery" spot developed by McCann Montreal, which was named AOR for the government agency last February, features three entrepreneurs who have embraced the opportunities of fulfilling their first international order or contract. While doing so takes "bravery," EDC is there to help them navigate the entire process.
The organization wanted to "challenge this risk-averse mentality that Canadian corporations have and turn it into something exciting, turn it into something that makes Canada compete on the global scale," says Roy.
He says the platform is the result of an organization-wide effort that began more than a year ago, leading up to EDC being "much more deliberate and proactive in the marketplace," beginning with the launch of the campaign a few weeks ago. "We've been on this journey for a while now."
The results of that early work started paying off last year, he says, and now EDC wants to build on that momentum by reaching out to new export communities.
Brand strategy was led by Folk in Montreal. Following a yearlong research process involving partners and stakeholders, EDC unearthed a number of different insights that have influenced the work.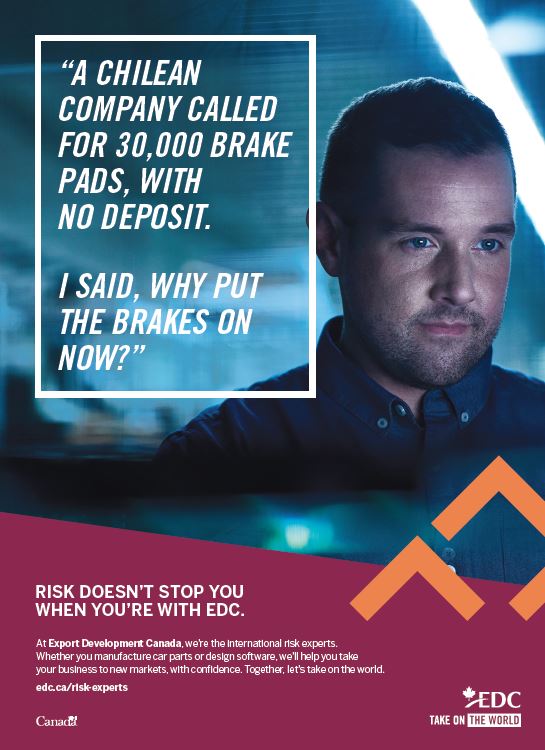 From a customer perspective, EDC learned that there's a new breed of small and mid-sized entrepreneurs who think about growing their businesses globally from the outset. Historically, Roy says reaching these customers has not been a focus for EDC. It also learned that these businesses don't always see themselves as exporters, thinking it's only bigger companies that can or should work with international partners.

On the product side, it discovered that it needed to place greater emphasis on the expertise of EDC employees who can support their clients with their trade knowledge and various financial and insurance solutions.

Finally, from a cultural perspective, going abroad is a risky endeavour, says Roy. "But risk also comes with reward."

The campaign is rolling out across display, social, print and OOH, as well as hyper-local mobile targeting. EDC has also returned to placing ads on TV. Past TV executions tried to convey too many aspects of the crown corp's offering and weren't as successful at delivering a clear message, says Roy. For the first time, it is working with ambassadors, including investors Arlene Dickinson and Daniele Henkel, to help drive its message of "risk positivity."

Media planning and buying is being managed by Media Experts in Montreal.