No Frills: The discount grocer with swagger
As it celebrates 40 years, the grocery chain is doubling down on unapologetic marketing to bring more savvy shoppers into the fold.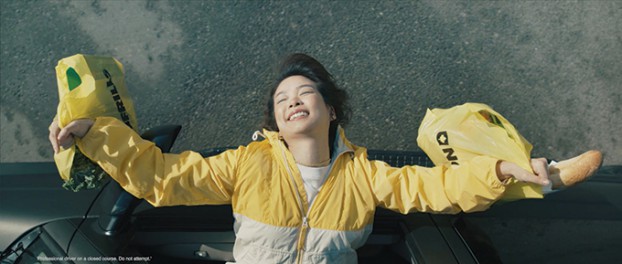 John St.'s brash "Haulers" campaign won advertising campaign AOY. The "#Hauler" video featured a woman hanging out of a minivan that was doing donuts in a No Frills' parking lot. 
This story appears in the November/December 2018 issue of strategy.
Some things never truly go out of style.
Back in July 1978 when Loblaw opened its first No Frills store in East York, Ont., unemployment and inflation rates were high. Then, as now, trying to save a few bucks on grocery bills was a popular Canadian pastime.
Forty years ago, the concept of a discount grocery store was something that the late Dave Nichol (then-president of Loblaw, which owns No Frills), said was "an idea from Europe." There was very little real competition in the new space.
That landscape has changed dramatically.
Today, grocery stores battle ferociously, with a bevy of American competition having made its way across the border since the '70s, including Walmart, Costco Wholesale and Whole Foods Markets, making it tough for Canadian-bred companies like No Frills to win the Grocery Wars, says Sylvain Charlebois, a professor in food distribution and policy at Dalhousie University.
The chain, known for its bold chrome yellow-and-black colour scheme (and matching No Name household brand), has always stood out. The day before the first store opened, Nichol made front-page news in The Toronto Star. The paper that day also teased to a story about prices for 35 food items rising by 12.5%. Loblaw was on to something, as there were lines out the door for the first few weeks it was open, according to news reports.
No Frills' debut spooked rivals, and many responded by taking out full-page ads – including Safeway, whose July 5, 1978 ad in the Star promoted: "Quality Brand Name Products At 'No Frill' Prices."
These days the Grocery Wars go well beyond taking out some attack print ads. Whole Foods (which was bought by retail giant Amazon in 2017) has aggressively fought its "Whole Paycheque" image by slashing the prices of popular items, including apples. It also began offering Amazon Prime customers a discount on Whole Foods items as a way to entice cost-conscious customers.
While many other discount rivals floundered over the last four decades (think Steinberg's and its Miracle Food Mart), No Frills survived. It now has more than 250 stores across the Great White North. While Loblaw doesn't break down sales by brand, the company reported food retail same-store sales grew 1.9% in the first quarter of 2018, noting it was facing "external headwinds" and a changing retail landscape due to an increase in online grocery shopping.
It's "a real battleground" these days and trying to compete based on price alone is a losing battle, says Angus Tucker, partner, and co-CD at John St.
Instead, the agency has focused on differentiating No Frills by going straight for the jugular when it mocked Whole Foods-style stores in its "Get the Frill Out of your Bill" campaign in 2017.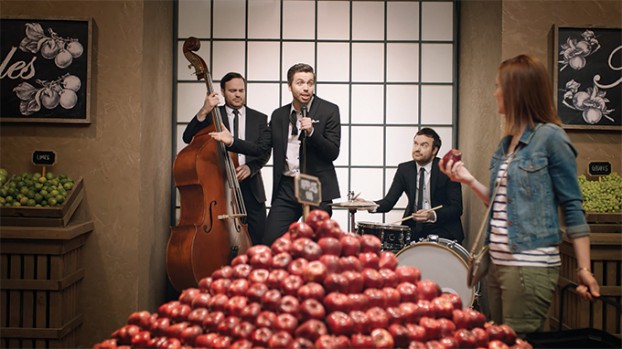 A series of tongue-in-cheek spots poked fun at stores with silly frills like "artisanal condiment boutiques" and jazz trios (pictured above). The campaign resulted in a 12% sales growth versus the year prior.
While Whole Foods may not seem like a direct competitor at first glance, Cher Campbell, CD at John St., says the 2017 platform was intended to celebrate those too smart to pay for frills, as well as getting Canadians who shop at premium grocery chains to rethink their pricey habit.
That campaign set the mood for this year's "Haulers" work, which has created a buzz around the company as it hits middle age. The campaign was a huge hit with Canadians, as well as within the marketing community this year. John St. took home the prize for AOY Campaign of the Year recently for the "Haulers" campaign, as well as an AOY Silver trophy and a Design AOY Bronze prize at strategy's annual Agency of the Year show in November.
Retail analyst Ed Strapagiel says the recent campaigns have helped the brand re-introduce itself to current customers (Baby Boomers and Gen X), as well as become better acquainted with new customers (millennials and Gen Z). Before 2017, the discount chain had spent very little on frills like advertising beyond flyers promoting low prices, notes Campbell.
While she says all of the work John St. has done for No Frills targets anyone who wants to save on their bill, regardless of age, the "#Hauler" video clearly resonated with the under-30 set when it dropped online.
The 90-second video is essentially a high-energy celebration of the Loblaw-owned discount grocery chain, and has garnered 1.4 million views on YouTube.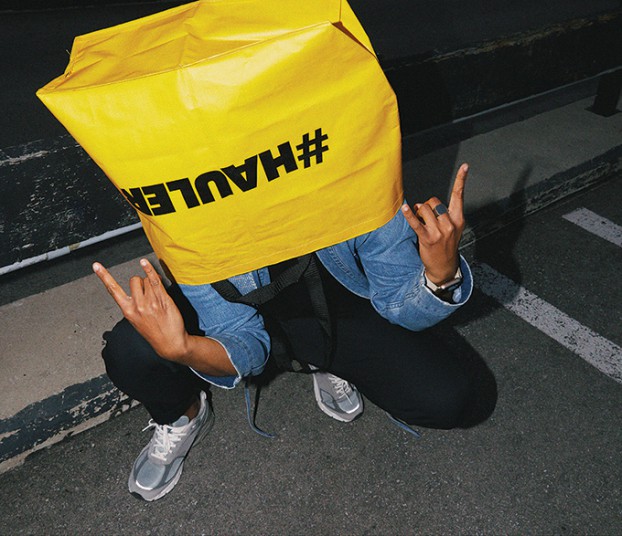 As part of a larger "Haulers" campaign that rolled out this summer, the Toronto agency opted to hype the grocery store in the style of an album drop, with everything from the aforementioned video to wild OOH postings to a limited-edition clothing line to bags (pictured above). The response has been "pure love," says Campbell.
Even though the brand turned 40 this year, an initial campaign was needed to get No Frills back in "consumer's minds and hearts," she adds.
"We couldn't have done 'Haulers' [before 'Frills']. I think [we] would have had [a lot of] 'What the f–k is that?,'" says Campbell. "You have to sort of set the table before you can serve the meal."
Mary MacIsaac, VP of marketing, discount division for Loblaw, is pleased with what John St. has served up, saying she sees the work as "giving our customers permission to celebrate getting the most out of their grocery budget and wave their frugal flag proudly."
Campbell and her team have a third No Frills campaign planned for next year, proving that certain things, such as brash discount grocers, never truly go out of style. But sometimes bold campaigns are needed to remind consumers that not spending on frills isn't cheap, it's savvy.
No Name black-and-yellow store brand brings in the green
Loblaw's first-ever store brand, featuring its black Helvetica font on chrome yellow, also celebrates its 40th this year, having launched in 1978 across 135 Ontario stores.
Dave Nichol, then-president of Loblaw's, sang the praises of the generic line, which would later be displayed in No Frills stores that also bore the same colour scheme.
The late designer Don Watt, who worked with Loblaw on many projects over the years, was key to the stark design, says Keith Rushton, a design professor at Watt's alma mater, OCAD University. The minimalist design of the No Name packaging has long been admired in the design community, with Rushton saying the designs were "brilliant" then and now.
No Name caught on fast, with a 1978 CBC report indicating that nearly 50% of shoppers' opted for the cheaper line at No Frills' store. Then-rival Dominion Stores was first to announce a line of 30 brandless products, but Loblaw was first to have 16 No Name products hit shelves, according to The Globe & Mail.
Today, most grocery stores offer generic brands, but back then the concept "baffled" shoppers. However, with prices up to 40% lower for generic brands, shoppers told reporters back in 1978 they didn't mind buying generic "as long as the quality was good."
Customers clearly are no longer baffled by generic brands and most grocers now offer popular generic brands. No Frills' competitor, Costco, for example has seen big success with its in-store brand Kirkland Signature, which made up 25% of Costco's sales in 2014, according to market research firm Market Realist.
House brands historically were not "nationally advertised," a cost consideration that Loblaw first nimbly overcame with Nichol's promotional efforts, but which was later disrupted by a No Name TV push.
Timeline: From one store in 1978 to 250+ stores and counting
1977
Then-rival Dominion Stores (later sold and rebranded as Metro) opened its Discount Food Warehouse in Richmond Hill, Ont. An ad in the Toronto Star on Nov. 2, 1977, listed 10 reasons its prices were so low and asked customers to bring their own bags.

1978
The first No Frills store opens on July 5, 1978, in East York, Ont. The store had "no butcher, no bakery, no frozen food, no air conditioning, no fancy displays and not even much choice of products," said a 1978 CBC report.

1993
Dave Nichol, who was the public face and voice of No Frills, exits the company. The brash pitchman perfected the art of content marketing via flyers before it was a thing.

2001
No Frills celebrated its 100th store opening with the first of many Dollar Days promotions. The popular promo still runs today and features a range of items selling for one dollar.

2009
TV ads by Bensimon Byrne promoted the No Name brand (often prominently featured at No Frills stores) months after the 2008 Great Recession got Canadians' tightening their belts.

2010
No Frills launches "Won't Be Beat." Still in effect today, the program allows shoppers who find a cheaper price within a store's geographical trade area, to show the ad or receipt and No Frills will match it.

2014
Loblaw's loyalty program, PC Plus, is introduced at No Frills' stores a year after it launched. Four years later, Loblaw's combines it with Shoppers Drug Mart's Optimum to create PC Optimum.

2017
No Frills approaches John St. after years of doing virtually no advertising other than price-focused flyers, leading to the brand's largest mass campaign ever – "Get the Frill Out of your Bill."

2018
John St. follows up with the "Haulers" campaign, which features a music video and various other components meant to mimic an album drop, such as a branded clothing line.