Industry members partner on McGill's new retail school
CloudRaker and a number of retailers will help tackle major challenges at the Bensadoun School of Retail Management.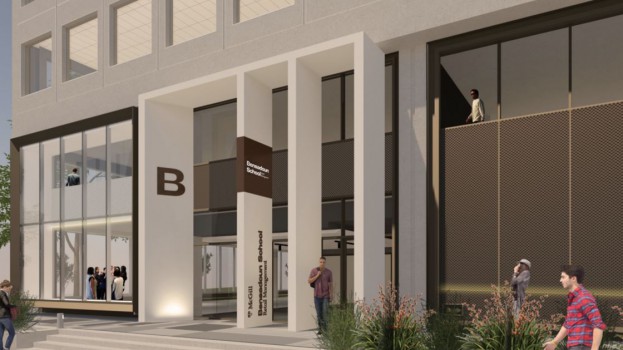 McGill University's new Bensadoun School of Retail Management (BSRM) has officially opened in Montreal, and a number of major retailers and one agency will help shape the future of retail in Canada as members of its Founder's Circle.

The new interdisciplinary school is dedicated to all facets of the retail industry, but will have a particular focus on sustainability. Its main areas of research will include food, health and wellness, fashion and beauty, financial services and financial technology.

The school will serve as a "forward-looking research and educational hub that looks to help solve today's grand challenges that affect the retail industry for a prosperous and sustainable future of retail," says Saibal Ray, professor of supply of chain management at McGill and academic director at the Bensadoun School of Retail Management. The goal, he says, is to bridge knowledge gaps between industry stakeholders and increase Canada's competitiveness at a time of widespread industry change.

BSRM was launched through a $25 million gift from Aldo footwear founder Aldo Bensadoun (who graduated from McGill) and the Bensadoun Family Foundation in May 2017. Since its founding in March 2018, McGill has raised an additional $7.5 million through members of what the school is calling the "Founder's Circle," a group of investors that includes the Apparel Group, Couche Tard, Saputo, Walmart, Birks Group and Montreal-based agency CloudRaker.

Since launching the Founder's Circle, other companies have expressed an interest in partnering with BSRM, and Ivanhoé Cambridge and Nespresso have signed on as the first "post-launch" collaborators, according to a press release.

"It is our hope that an increasing number of industry players step forward and support the development and implementation of initiatives ensuring that the future of retail is not only viable, but more importantly, sustainable," said Aldo Bensadoun, in a statement.

Carl Boutet, executive director at CloudRaker and BSRM advisory board member, says the school and its partners are in the initial stages of developing a lab that will be research-led and focused on using academic research to solve "profound challenges facing the retail industry."

"The word 'lab' is now overused or misused in so many settings that it has in many ways lost its significance," he says. "However, when you tie it back to an academic institution, especially one with McGill's rich research legacy, you can give it meaning again."

CloudRaker's involvement follows its recent rebrand as a result of its decision to focus more exclusively on retail. It recently opened a shopper practice in Toronto. Collaborating with BRSM gives it and the other members the chance to share their "expertise, energy and willingness to contribute to the lab, case projects, internships, recruitment, etc," says Thane Calder, CloudRaker CEO.

Apart from the fact that BSRM's mission resonates with the agency's new focus on retail, McGill's international reputation aligns with CloudRaker's recent partnership with France-based Altavia Group, he says.

BSRM first enrolled students in the fall, and will be adding additional programs over the next year.