FCB/Six takes top prize at 2018 CMA Awards
"Destination Pride" took the Best of the Best Award at this year's show among a handful of other Gold wins.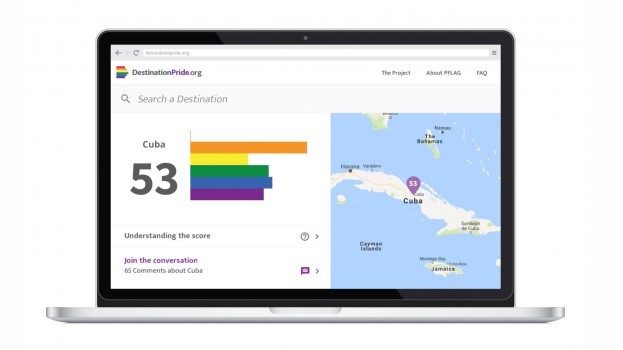 FCB/Six has a "Best of the Best" from this year's Canadian Marketing Association Awards to add to its trophy case.
FCB's digital agency was awarded "Best of the Best" for the "Destination Pride" campaign for PFLAG Canada, which also picked up a pair of Gold wins in the Innovative Media category, one in Digital & Tech and one in Brand Building. FCB Canada also took home Gold wins for work with Fountain Tire, BMW Canada and Michelob Ultra.
Other big winners were the Bensimon Byrne family of agencies for their work on "Break Bread Smash Stigma" for Casey House and Ogilvy for work with U by Kotex, Sugar Crisp and American Express.
On top of the Gold wins, a number of special awards were given out during Friday's gala. Maya Lange, VP of global marketing for Destination British Columbia, was named the 2018 Marketer of the Year, recognized for helping British Columbia's tourism industry outperform most of Canada, growing at almost twice the rate of B.C.'s economy.
Other special awards included the Environics Analytics Data Marketing Award going to "Data vs Car" by Touché; the Facebook Mobile Marketing Award going to American Express' internal marketing team and agency roster for the campaign launching its Cobalt Card; the Snapchat AR Marketing Award going to BBDO Toronto and PepsiCo for "Snap it with Pepsi"; and the YouTube Creative Storytelling Award going to Grip for RBC's "RBCxMusic – Music Makes You" campaign.
All of the Gold winners can be found below. The full list of Gold, Silver and Bronze winners can be found on the CMA's website.
| | | | | |
| --- | --- | --- | --- | --- |
| Campaign | Category | Discipline | Agency | Client |
| Cobalt Card Launch | Facebook Mobile Marketing Award | Special Award | American Express Canada | American Express Canada |
| Cobalt Card Launch | Financial | Community Engagement | American Express Canada | American Express Canada |
| Snap it with Pepsi | Snapchat AR Marketing Award | Special Award | BBDO Toronto | Pepsi Canada |
| We're All Creative | Financial | Innovative Media | Bensimon Byrne | Scotiabank – Arts Sponsorship |
| Break Bread Smash Stigma | Health Care | Brand Building | Bensimon Byrne / Narrative / OneMethod | Casey House |
| Break Bread Smash Stigma | Health Care | Business Impact | Bensimon Byrne / Narrative / OneMethod | Casey House |
| Break Bread Smash Stigma | Health Care | Community Engagement | Bensimon Byrne / Narrative / OneMethod | Casey House |
| Break Bread Smash Stigma | Health Care | Customer Experience | Bensimon Byrne / Narrative / OneMethod | Casey House |
| Break Bread Smash Stigma | Health Care | Digital & Tech | Bensimon Byrne / Narrative / OneMethod | Casey House |
| Break Bread Smash Stigma | Health Care | Personalized Engagement | Bensimon Byrne / Narrative / OneMethod | Casey House |
| Kare Shop | Consumer Services | Customer Experience | BIMM | Enercare |
| Pre-Show Engagement | Consumer Services | Personalized Engagement | Cineplex Entertainment | Cineplex Entertainment |
| Canadian Tire Jumpstart – Give A Toast | Social Causes | Business Impact | Community Agency – Attn: Alyssa Guttman | Canadian Tire Jumpstart |
| Big Mac x Bacon (BMxB) Collaboration | Food & Beverage | Business Impact | Cossette | McDonald's Canada |
| Get Better Gifts (Milk & Cookies) | Social Causes | Customer Experience | Cossette | SickKids Foundation |
| SickKids VS All In | Social Causes | Personalized Engagement | Cossette | SickKids Foundation |
| #EtiquetteFail | Consumer Services | Brand Building | DDB Canada | Metrolinx |
| #EtiquetteFail | Consumer Services | Community Engagement | DDB Canada | Metrolinx |
| The Investment Truth | Financial | Personalized Engagement | DentsuBos | Manulife Financial |
| Script Your Search | Automotive | Brand Building | FCB | BMW Canada |
| Michelob vs Wine | Food & Beverage | Brand Building | FCB | Michelob Ultra |
| Safest Highway | Automotive | Digital & Tech | FCB | Fountain Tire |
| Safest Highway | Automotive | Innovative Media | FCB | Fountain Tire |
| Destination Pride | Social Causes | Brand Building | FCB/Six | PFLAG Canada |
| Destination Pride | Social Causes | Digital & Tech | FCB/Six | PFLAG Canada |
| Destination Pride | Pro Bono | Innovative Media | FCB/Six | PFLAG Canada |
| Destination Pride | Social Causes | Innovative Media | FCB/Six | PFLAG Canada |
| RBCxMusic – Music Makes You | YouTube Creative Storytelling Award | Special Award | Grip Limited | RBC |
| Bitcoin Bucket | Food & Beverage | Community Engagement | Grip Limited | KFC Canada |
| Greenfield Meatless Monday | Retail | Community Engagement | Havas Canada | Maple Leaf Foods |
| Boston Pizza – Team HQ | Food & Beverage | Personalized Engagement | ICF Olson | Boston Pizza |
| MR-1 | Business | Business Impact | Intercept Group | Microsoft Canada |
| Do More Together | Business | Community Engagement | Intercept Group | Microsoft Canada |
| MR-1 | Business | Innovative Media | Intercept Group | Microsoft Canada |
| MR-1 | Business | Personalized Engagement | Intercept Group | Microsoft Canada |
| Air Canada Cool Not Cold | Business | Brand Building | J. Walter Thompson Canada | Air Canada |
| Air Canada Cool Not Cold | Business | Customer Experience | J. Walter Thompson Canada | Air Canada |
| Hotels.com Temporary Captain | Business | Digital & Tech | J. Walter Thompson Canada | Hotels.com |
| Remission Billboard | Health Care | Innovative Media | J. Walter Thompson Canada | St. Louis Children's Hospital |
| Loblaw Companies Limited – No Frills – #HAULERS | Retail | Brand Building | John St. | Loblaw Companies Limited – No Frills |
| Loblaw Companies Limited – No Frills – #HAULERS | Retail | Business Impact | John St. | Loblaw Companies Limited – No Frills |
| Dr. Oetker – Cioccolato | Food & Beverage | Innovative Media | John St. | Dr. Oetker |
| Amazon Prime Day | Retail | Personalized Engagement | Leo Burnett, Toronto | Amazon |
| A Room with Many Views | Consumer Services | Business Impact | lg2 | Alliance de l'industrie touristique du Québec |
| Singing Cartons | Food & Beverage | Customer Experience | lg2 | Les Producteurs de lait du Québec |
| A Room with Many Views | Consumer Services | Digital & Tech | lg2 | Alliance de l'industrie touristique du Québec |
| Singing Cartons | Food & Beverage | Digital & Tech | lg2 | Les Producteurs de lait du Québec |
| Good Deeds Cup | Automotive | Community Engagement | Momentum, A McCann Worldgroup Canada Company | Chevrolet Canada |
| The BMO200 Fountain | Financial | Digital & Tech | Mosaic | The Bank of Montreal |
| Don't Get Sextorted, Send a Naked Mole Rat | Social Causes | Community Engagement | No Fixed Address | Canadian Centre for Child Protection |
| It's Not My Period | Consumer Products | Brand Building | Ogilvy | Kimberly Clark |
| American Express Canada Cobalt Card Launch | Financial | Brand Building | Ogilvy | American Express |
| American Express Canada Cobalt Card Launch | Financial | Business Impact | Ogilvy | American Express |
| Sugar Crisp Spout | Consumer Products | Community Engagement | Ogilvy | Post Brands Canada |
| Sugar Crisp Spout | Consumer Products | Customer Experience | Ogilvy | Post Brands Canada |
| American Express Canada Cobalt Card Launch | Financial | Customer Experience | Ogilvy | American Express |
| Strokable Billboards | Consumer Products | Innovative Media | Ogilvy | Kimberly Clark |
| The Welcome Store | Retail | Customer Experience | Rethink | UNIQLO |
| Thermal Discount | Retail | Digital & Tech | Rethink | FGL Sports Ltée (Sports Experts) |
| Roots Northern Light | Retail | Innovative Media | Roots Canada | Roots Canada |
| Data vs Car | Environics Analytics Data Marketing Award | Special Award | Touché | Simon Parent |
| Data vs Car | Consumer Services | Innovative Media | Touché | Simon Parent |
| Just Ask a Golf Driver | Automotive | Customer Experience | TRACK DDB | Volkswagen Group Canada |
| Reactine Pollen Alerts | Consumer Products | Business Impact | UM Worldwide | Johnson & Johnson |
| Reactine Pollen Alerts | Consumer Products | Digital & Tech | UM Worldwide | Johnson & Johnson |
| Common Ground | Automotive | Business Impact | Zulu Alpha Kilo | Harley Davidson |
| Common Ground | Automotive | Personalized Engagement | Zulu Alpha Kilo | Harley Davidson |