Tech in Action: AR that shows the reality of homelessness
U.S. bank Santander's app puts people in the shoes of the working homeless.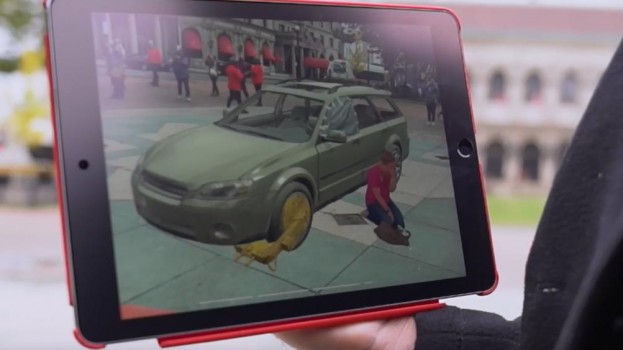 People tend to have a stereotypical view of what a homeless person is like.But a new augmented reality app from U.S.-based bank Santander aims to break those stereotypes and help the 25% of homeless people in the country who don't have a home, despite working a job.

The app is based on a public activation the bank executed with agency partner Arnold and tech partner Arcturus in October. In high-traffic areas of Boston, passersby were invited to don headphones and pick up a tablet that showed a day in the life of Jen, who lived out of her car despite having a full-time job. Jen's vehicle appeared before users in a public square, taking things that might typically happen out of view – struggling to call someone to ask for help, or finding a boot attached to the car's wheel – and making it seem as if they were happening right in front of them.

A version of the experience built for mobile devices is available starting today from the App Store and Google Play. For every download, Santander will donate US$1 to organizations working to get people into more permanent housing.

"At Santander Bank, we're committed to 'walking the walk' by ensuring that respect is at the foundation of everything we do, from how we interact with our colleagues to how we connect with our customers and engage our communities," said Michael Cleary, co-president of Santander Bank and head of consumer and business banking.

Last month, the bank launched the "In Someone Else's Shoes" initiative, a three-day program that tracked people's steps through a pedometer app and resulted in $200,000 being donated to homeless organizations. "By bringing attention to a segment of the population who are misjudged by society and don't feel respected – the working homeless – we hope to reshape the narrative around this issue and help close the respect gap," said Cleary.