Aviva shows link between insurance and goalies
Freddie Andersen serves as a stand-in for disaster relief in new spots for the brand's Maple Leafs Insurance.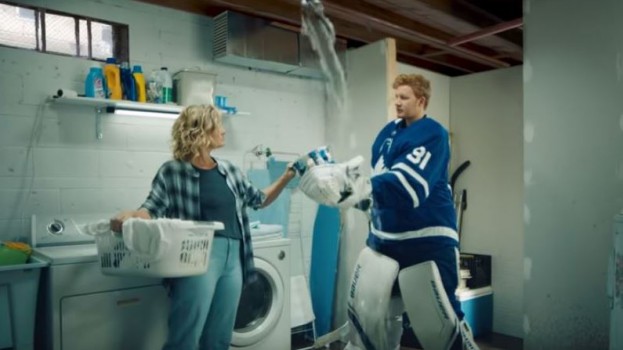 Insurance provider Aviva Canada has partnered with Toronto Maple Leafs goaltender Freddie Andersen on a new campaign for its team-branded insurance product.

Aviva first launched Toronto Maple Leafs- and Raptors-branded home and auto insurance in 2017, through a partnership with Maple Leafs Sports and Entertainment. The goal was to provide an "insurance experience through a branded customer journey," as Jason Storah, EVP at Aviva Canada, noted in a statement at the time.

Now the brand is marketing Maple Leafs Insurance with the help of goalie Freddie Andersen, whose goal-stopping powers serve as a metaphor for larger disaster relief. The creative concept draws a parallel between the role of goalie on the ice, and insurance protection in real life, says Ben Isotta-Riches, chief digital and partnerships officer at Aviva Canada.

In the first of two spots created by agency No Fixed Address, Andersen is shown in full gear dousing a small living-room fire with his water bottle. In the second, he helps a customer deal with a burst pipe in the basement.

In both ads, the goaltender is shown as having a calming influence over otherwise panic-inducing situations. His deadpan demeanor and the overall light-hearted approach to the creative is meant to provide a sense of assurance and relief in an engaging way, says Isotta-Riches.

"We know that insurance isn't an exciting topic or purchase for that matter, but we also know it's extremely important for consumers to have and understand," he says. "By turning the customer experience into something different, more unique and more enjoyable, Maple Leafs Insurance Provided by Aviva helps us address some of the pain points consumers have identified."

The campaign is rolling out on radio, during live hockey games and online in sports-related environments. The online videos are receiving support on digital and social media.