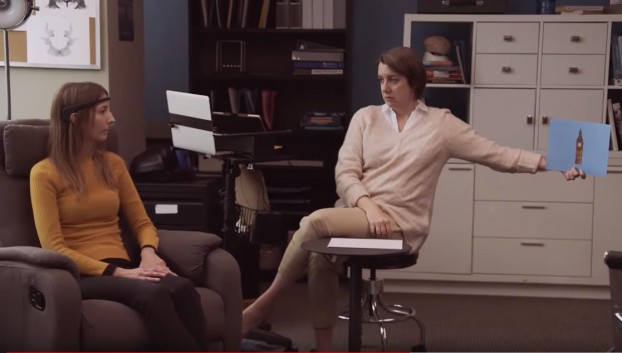 By Kat Shermack
Air Transat's latest campaign aims to offer customers a tongue-in-cheek cure for homesickness at the holiday season.
In the video, British expats living in Canada are told they are participating in a scientific study that will help cure their homesickness. While hooked up to a brain scanner, they are shown photos of things like a cup of tea, Big Ben and an English terrier to test just how homesick they are.
The researcher then reveals that she works for Air Transat, giving participants a free ticket to the U.K., the only real cure for their homesickness.
Creative on this project was led by Sid Lee. The video will run on the company's website, newsletter and social platforms.
The video is intended to promote flights between the U.K. and Toronto. Air Transat offers flights from Toronto to Glasgow, London and Manchester. While the video specifically targets expats in both countries, Geneviève LeBrun, VP of marketing at Transat, says the company is always looking to target anyone with an interest in international leisure travel.
"We celebrate ourselves as vacation champions," says LeBrun. "We are always looking for innovative ways to convince people to take leisure holidays."
Transat has offered flights to Europe for over 30 years, but the company has recently increased its focus on the continent. This campaign operates on similar insights as its other Europe-focused work: when travelling to Europe, the specific country or city is much more important than with a tropical vacation, where the most important thing is usually the beach. Also, visiting friends and family tends to be more of an an important factor. This campaign emphasizes both those elements by highlighting things that are uniquely British, and sending customers off to see their loved ones.
This is not the first time Transat has surprised unsuspecting customers with a vacation. Earlier this year, Transat held a "vacation intervention" to surprise overworked employees with a free vacation. According to LeBrun, Transat has received a great deal of positive feedback on social media in response to the "intervention" videos, and the latest video is keeping with the same theme.
"It's consistent with our tone," she says. "It's about bringing families together."
Surprising customers with a gift is a common trend among airlines, especially over the holidays. WestJet recently launched the newest edition of its "Christmas Miracle" campaign, focusing on holiday traditions from around the world. LeBrun says heartwarming content is what people want to see this time of year.
"Feel good videos are timely in December," she says. "It's about bringing families together. There's always room for this type of content in our busy digital world."