2019 AToMiC Awards winners revealed
BBDO's "Paralympic Network" took the Grand Prix in a year where branded content led to game-changing ideas.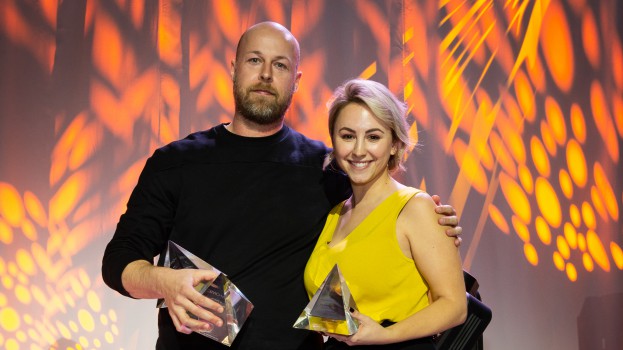 BBDO Toronto's Tom Kenny, SVP of strategy, and Courtney Dionne, digital strategist.
Branded content was the big winner this year.
Well, next to the Canadian Paralympic Committee: the organization is actually the biggest winner of them all, having picked up the Grand Prix, alongside BBDO, for its "Paralympic Network."
Although, similar to the committee's campaign to bring Paralympic event footage to the masses, many of this year's AToMiC winners were rooted in sharing game-changing content.
From long-form videos to documentaries and more, a host of brand winners showed that they've perfected the art of the moving picture.
Today, we're putting the spotlight not only on BBDO and the "Paralympic Network," but other work that tapped into passionate communities of fans and advocates to create movements in the link below. Some cause brands, also featured below, turned to experiential to show how they're listening to the groups they're advocating for.
Other game-changing ideas that came out of this year's batch of winners included ways to introduce the new recreational cannabis category to Canadians, as well as how older brands are using new tricks to engage with their audiences.
Strategy developed the AToMiC Awards, in consultation with a pan-industry advisory board, to identify groundbreaking ideas and programs across Canada's mediascape. The winners, chosen by a jury of digital, TV, agency, marketing and media execs, offer innovative examples of how to engage audiences with fresh ideas, on multiple screens and in new environments.
For the full list of winners, visit the AToMiC website, and be sure to check in for deep dives into this year's award-winning work throughout the rest of the week.
Inside the winning work
Fan-powered frenzy: Canadian Paralympic Committee's "The Paralympic Network" by BBDO Toronto; States United to Prevent Gun Violence's "Backfire" by Rethink;  Canadian Down Syndrome Society's "Anything But Sorry" by FCB Canada; Montréal Little Italy's "Anyone but Sweden" by Rethink

Listening is believing: The Cerebral Palsy Association of Manitoba's "Locked out of Life" by UpHouse; Interval House's "The Broken Bride Registry" by Union

Old brands, new tricks:  KFC's "Bitcoin Bucket" by Grip; The Terry Fox Foundation's "Millions of Followers" by Grip

Cannabis 101:  "Grass Roots" by Central Station; Canopy Growth / Tweed's "Hi." by Cossette