CIBC goes after seasoned travellers with Aventura
The bank again taps Percy the Penguin to tout the rewards program's broader benefits, instead of points.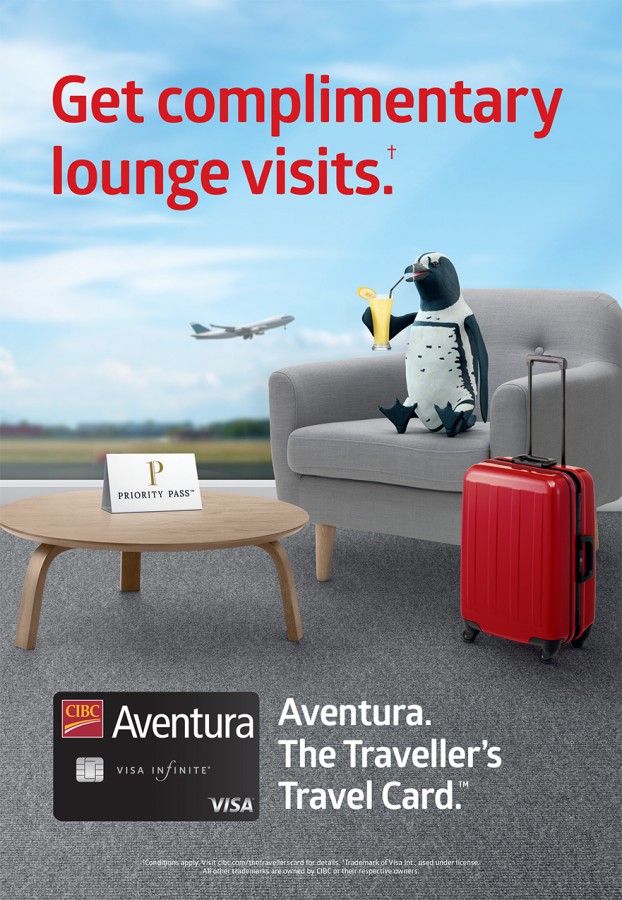 CIBC is once again rolling out its terrestrially grounded globetrotter Percy the Penguin to push its Aventura travel rewards program, emphasizing broader benefits instead of point collection.

The new spot builds on last year's rebrand, "The Traveller's Travel Card," with Percy again front and centre, cooing that he wants his family vacation to go as "smooth" as possible. A travel rep quickly whisks Percy and company through customs, and he enjoys smoked salmon in a travel lounge and idles by the pool.

The campaign touts three benefits to its premium Aventura card line: complimentary travel lounge visits, mobile device insurance (in the spot, Percy breaks his phone pool side and it's covered) and rebates for NEXUS, the cross-border program for frequent pre-approved, low-risk travellers.

"When we announced the first campaign, we were really talking about the new brand," says Angela Sarino, senior director, marketing communications at CIBC. In this campaign, it's about "giving consumers more reasons to love Aventura," she says, including mobile insurance and NEXUS rebates, which Sarino says are unique to the brand and a way to make it stand out from the pack.

The campaign reflects a broader focus on benefits rather than points, which "were quite restrictive when first launched, with blackout periods." Sarino says the company used Percy to focus on "articulating that they changed the structure of points to make it easier to fly."

"When we did all of our research, we found people who saw themselves in a slightly different vein, more off-the-beaten path and authentic travel seekers," says Sarino. This was different from the packaged holiday destination traveller – hence the name, "The Traveller's Travel Card." The ad targets "someone who takes their travel seriously," Sarino says, and many of its other recent ads have focused on "authentic travel" and people who seek new experiences. Customer acquisition is CIBC's primary objective, Sarino says, but is always looking for ways to make the card more valuable to current holders.

Percy the Penguin has been used in all of CIBC Aventura's mass advertising since he began as the company's pitch-bird in 2013, after the bank lost its Aeroplan partnership to TD Bank. CIBC expanded his use to other lines of business in 2015, to coincide with its "Banking That Fits Your Life" tagline.

The 10-week "The Traveller's Travel Card" campaign was created by Juniper Park\TBWA, and includes ads in TV, online video, OOH, prints, digital and social, as well as banking centre communications. The bank also has ongoing content partnerships with the Food Network and Twitter.