Gay Lea whips up first national campaign
The dairy company hopes a big push behind a new flavour can drive interest in a typically seasonal whipped cream category.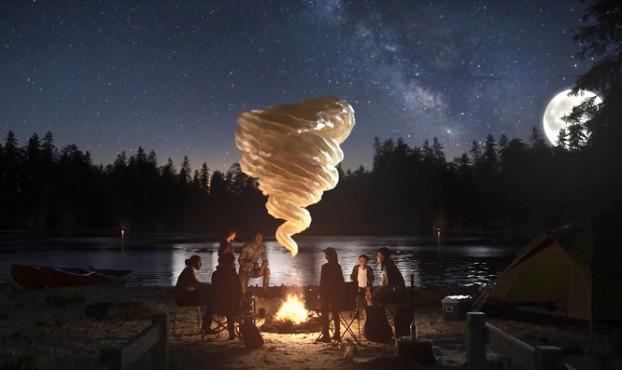 Dairy co-op Gay Lea is using its first national campaign to whip up interest in it a category that's quieter in the summer – pushing its new Toasted Marshmallow Whipped Cream as a camping treat.

In its new digital spot, campers are gathered at a lakeside setting around a fire. Smoke spirals into a whipped cream contour, punctuated by a call of the loon and a call to action: to "bring home that campfire feeling." The aerosol can is branded with a s'more, a time-honoured outdoors treat.

The whipped cream business has lots of peaks and valleys and is mainly driven by holidays, special events and family gatherings, according to Robert London, director of marketing, Gay Lea Foods Co-Operative. London tells strategy that the toasted marshmallows whipped cream is an opportunity to promote a flavour synonymous with camping and cottage country and to "try to entice consumers to consider other options for toasted marshmallow."

Through research, the brand identified toasted marshmallow as a top new flavour, and it beat out peppermint, which it considered to be a more seasonally-defined cold weather taste.

With its first national effort, London says the brand is also "trying to break down borders": while it's known as a large Ontario food co-op, its name recognition decreases in other parts of the country.

Gay Lea is targeting moms with kids, looking to add a bit of sweetness to desserts, coffee or spirits, he says.

According to London, in the aerosol toppings category, the company has 80% market share in Ontario, with competition coming primarily from private label brands, as well as hydrogenated oil-based whipped cream like Kraft Heinz's Cool Whip.

London says the Toasted Marshmallow Whipped Cream was released early April and will ship to August. According to London, the brand is trying to repeat the success of its limited release Dark Chocolate Caramel Real Whipped Cream.

The campaign includes digital pre-roll and OOH and was led by Agency59, Gay Lea's AOR, with production by Toronto's I Am Static.