How OLG celebrated the Lunar New Year
The lottery corp combined sentiments of good fortune prevalent during this time of year with value-focused messaging.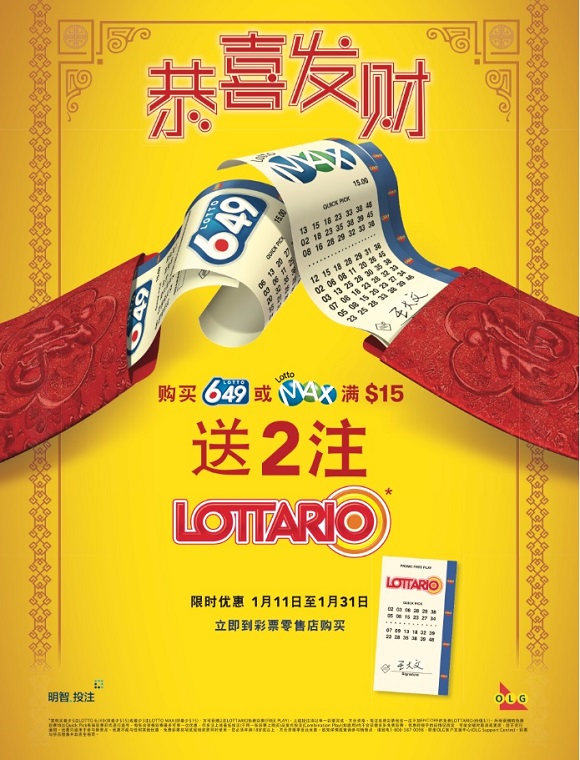 The Ontario Lottery and Gaming Corporation used all the tools at its disposal to find a place for its lottery games ahead of Lunar New Year celebrations last weekend.
The promotion is being supported by in-language TV spots, print ads, OOH, and digital, and including two lottery tickets coming together in an image reminiscent of the traditional "Kung Hei Fat Choi" two-hand greeting, as well as Lai-See red gift envelopes. In store, participating retailers received a themed POS kit to spread awareness and motivate purchase.
Jensen Tsoi, partner and VP of creative for Dyversity Communications, the multicultural agency that worked on the campaign, says it's a move by the OLG to offer more culturally-relevant products, based on market research that showed consumer appetite for lottery- and gaming-related messaging in their own language.
OLG also offers themed products, promotions and advertisements for other occasions throughout the year, such as Diwali and Christmas, where lottery tickets tend to be popular gifts. But Lunar New Year is a time of year when OLG's products are especially popular, given how prevalent the sentiment of "wishing good fortune upon others" is during this festival.
"We are tasked each year to produce original and unique marketing solutions to help grow their lottery sales during this festive period," Tsoi says, having been the OLG's multicultural agency since 2014. He says his agency had carte blanche in terms of messaging to fall in line with the current offer, and adhere to the OLG brand persona. In 2018, OLG launched a new platform for Lotto 6/49 with "Joy for All" messaging intended to be more inclusive and diverse, while Lotta Max has been encouraging customers to get ambitious and "dream bigger."

He adds that during the key days leading up to the new year, OLG engaged consumers at various locations, specifically ethnic malls like the GTA's Pacific Mall and First Markham Place to connect with their audience. Activations included games that promoted interaction and "goodwill" to resonate with the Chinese community during this time of year. In addition to the sentiment, the message for the campaign focused on a special promotion, offering two free plays of Lottario after spending $15 on Lotto Max or Lotto 6/49 tickets, given the target's appreciation for value in their purchases.