In Brief: Gut (formally) unveils its Toronto office
Plus, H+K adds three major AOR assignments and T1 adds senior experience to its sponsorship team.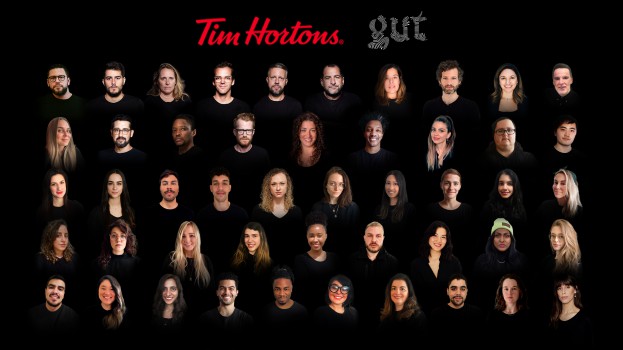 Gut makes its Toronto office and Tims AOR assignment official
That Miami-based independent agency Gut opened a Toronto outpost to handle a new AOR assignment with Tim Hortons has not been the most closely guarded secret, but the agency has now formally announced its office, leadership team and the details of its mandate with the QSR.
Gut Toronto is being led on the ground by chief strategy officer Dino Demopoulos, previously of No Fixed Address, and business director Ryan O'Hagan, who was previously client services director at John St., both of whom began working to help establish the agency last November. In June, they were joined on the leadership team by human resources director Pam Albert, helping to manage the agency's staff, which now number over 40.
Also on the leadership team is ECD Brynna Aylward, who runs a creative department that also includes creative directors Frederick Nduna and Matthew Kenney. Aylward had previously been a CD in Gut's Miami office before being elevated to ECD in Toronto in May, while Nduna and Kenney had previously worked as ACDs on the Tims business from Miami until the beginning of this year.
Gut first began working on global campaigns for Tim Hortons from Miami back in 2018. After taking on more of Tims' advertising assignment and opening the Toronto office, the agency's work has included "Hero Cups," developing the unified "Tims for Good" CSR platform and a campaign introducing a new "Dark Roast" that kicked off a new framework for an increased advertising investment. As AOR, Gut handles all of Tim Hortons' advertising communications in Canada, including creative, brand and communications strategy and production.
Hill+Knowlton wins three AOR assignments
Hill+Knowlton Canada has made three big additions to its client roster, picking up Canadian PR agency of record assignments for Campari, Adidas and Mars' Royal Canin pet food brand.
For Campari, H+K will work across corporate and brand marketing to amplify Campari's consumer communications in Canada. For Adidas, H+K will amplify brand campaigns, product launches and consumer communications, as well as utilize the experience of its Better Impact citizenship and sustainability consultancy. For Royal Canin, the assignment includes integrated public relations, corporate and crisis communications services for both pet products and services.
All three assignments were awarded following competitive pitches, though Campari works with H+K in several other markets – which the agency says adds greater depth to the relationship and will allow for the integration of global and local expertise – while Adidas is aligning its PR assignment in Canada with its long-time global relationship with the agency.
The new wins join a trio of recently expanded assignments with existing H+K clients. The agency has expanded its consumer lifestyle PR mandate with Mazda to also include citizenship and sustainability consulting, research, measurement and analytics. After handling public affairs, corporate and consumer PR for IKEA Canada since 2019, H+K has also added creative support and data, analytics and measurement work. And for plumbing supply company Masco, H+K now handles media relations and corporate strategy across several brands, in addition to the influencer work it was already doing.
T1 adds to its sponsorship know-how
Following three new assignments, Toronto's T1 has made a pair of senior additions to its sponsorship team.
Jorge Tatto has been hired as senior director of sponsorship strategy. Tatto spent the last two years leading the esports and gaming divisions at Cineplex as executive director of brand management and marketing, and also brings experience from Wasserman. He will be working alongside Lindsay O'Brien, who has been hired as director of sponsorship, coming off four years at Molson Coors, where she was most recently manager of brand partnerships and consumer experience.
Additionally, T1 has also added public relations specialist Rachael Jones, who adds experience working on CTV and IHeartRadio at Bell Media to the agency's publicity team.
The new additions come amid several new assignments for T1 in Q2 this year, including Big Brothers Big Sisters Toronto, NPower Canada and Lucky Brand Jeans.