AToMiC 2022: Hacking a moment
How marketers and creatives collaborate and act at the speed of light to hack the cultural zeitgeist.

This story was originally published in the 2022 Spring issue of strategy magazine.
By Wendy Kan
Going "viral" was not an easy feat for brands over the last two years. With so many more people tethered to their computers and phones during the pandemic, breaking through required strategies that tapped deep audience insights, seizing the cultural zeitgeist, and acting with nimble efficiency.
Take IKEA's "Cristiano Ronaldo Water Bottle" campaign by Rethink, for example. The Swedish retailer demonstrated the rewards that can come from being agile and creative when it comes to product naming – or to put it more accurately, renaming.
In the summer of 2021, IKEA became one of the most talked-about brands when it jumped on a cultural moment during the UEFA Euro tournament, one of the first major international sporting events to allow fans in the stands after more than a year of lockdowns.
To capitalize on the global appeal of football, brands spend millions of dollars to sponsor the tournament. Given that IKEA was not a sponsor and had zero spend dedicated to the event, Rethink found an ingenious way to capture sports fans' attention.
In a spontaneous and stunning move, Portuguese legend Cristiano Ronaldo rejected two Coca-Cola bottles displayed on a table in front of him during a press conference. He expressed his preference for a bottle of water instead, pointedly saying "Agua." IKEA and Rethink sprang into action, renaming the brand's popular reusable KORKEN glass water bottle "CRISTIANO" and posting the newly rebranded product across its social channels.
The move was more than just a buzzy stunt designed to capture media attention for the retailer. It also promoted IKEA's message of sustainability, and perhaps most significantly, hijacked conversations around the tournament.
The post exploded online, resulting in 700 million earned impressions in 48 hours and $25 million in paid media value. IKEA saw a 14% increase in sales the day of the post and a 7% increase in web traffic.
The campaign now holds the distinction of being IKEA's most talked-about social post, eventually leading it to win two AToMiC Golds in ROI and Social, as well as a Bronze in Digital Engagement.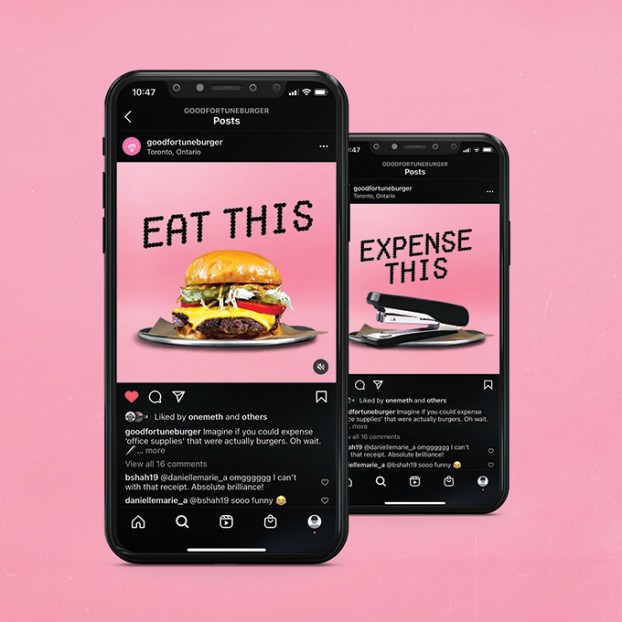 Reacting to cultural shifts and taking a playful approach to product (re)naming were also drivers behind "Receats," the brainchild of Good Fortune, a Toronto resto-bar, and its agency team OneMethod, Bensimon Byrne and Narrative.

With restos struggling to stay in business during Toronto's longest lockdown, and with many flooding food ordering apps, Good Fortune needed a way to stand out and boost delivery sales. The team landed on an idea to disguise items on Good Fortune's menu as office supplies and list them on UberEats and DoorDash.

The covert strategy allowed customers to expense orders to the companies they work for, during a time when customers were also building out their home offices. Burgers became "Basic steel staplers" and chicken sandwiches became "Dry erase whiteboards." To round out the ruse, receipts were issued from a fictional company called "GF Office Supply Co."

The ploy – which took home two Golds in Digital Engagement and Brand Experience, a Silver in Social, and two Bronzes in ROI and Shift – initiated ethical debates alongside chatter across Reddit, TikTok, Twitter and LinkedIn. More than 300 articles appeared in 16 countries. It was also used as a business case at the Ivey Business School at Western University. But, most importantly, the strategy yielded a 34% increase in mobile-driven sales for the restaurant, providing Good Fortune with enough financial thrust to continue operating beyond.