Balmoral Multicultural names a trio of new VPs
The multicultural marketing agency has made a number of key promotions and hires on the back of a strong year.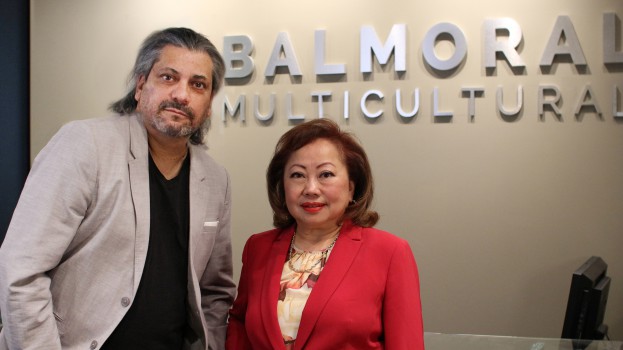 Balmoral Multicultural Marketing is growing – and that growth is reflected in a number of moves at the agency, including the promotion of three key personnel to senior positions, the hiring of new talents and the purchase of an office in Toronto's north end.

Among the senior appointments, Balmoral has named Jeffrey Almeida as SVP (pictured, above left, with Sharifa Khan, the agency's president and CEO). Almeida joined the agency more than three and a half years ago, taking on the role of VP and general manager. He brought more than two decades of international experience with him, having served as COO of Noble Advertising in Dubai and VP of Young & Rubicam in India.

"We're producing more original creative today that reflects the true and authentic power of Canadian diversity," he says. In his new role, he'll be focused on "bringing more of [the] untapped potential to life."

Donovan D'Souza has also been promoted into the role of ECD. D'Souza joined the agency as an CD in 2020, during the pandemic, and has won recognition from Cannes, Spikes Asia and LIA. He also brings international experience to the role, having worked in as a senior CD for FCB Ulka in India.

The final of the promotions is of Keshav Kumar, who has been named executive media director. Kumar has served in various roles within media at Balmoral since 2019, when he joined the agency from Ethnicity Matters. In his new role, he will lead the agency's media team and apply analytics and creative to develop hyper-targeted multicultural marketing.

In addition to the promotions, Balmoral has made a number of hires, including to its media and account services teams.

Among the new faces are Lily Kwong and Puneet Ahuja, both hired as media directors; and Lorna Leung and Yuli Wang, hired as group account directors. The four are part of a wave of new hires at the agency that has seen its media, creative and account services teams grow by more than 25% during the pandemic.

All of the new hires and appointments – as well as the agency's office at Sheppard and Yonge in Toronto, which it has purchased – are the result of considerable growth for the multicultural agency, which executed more than 25 campaigns for 15 brands across 10 categories in the past year. Much of the new work is the result of buy-in from brands to the importance of multicultural marketing in their overall mix, according to Khan.

"Today, there is recognition that multicultural marketing has to be at the table with brands from the outset, and this discipline is and will continue to play an important role in their growth and success," she says.

Balmoral's clients have included FreshCo, Metrolinx, OLG, BMW and Samsung.