Foodservice rebounds and consumer business stays strong at McCormick
Despite a slight dip compared to last year's unprecedented highs, the maker of Frank's and French's says at-home food trends are here to stay.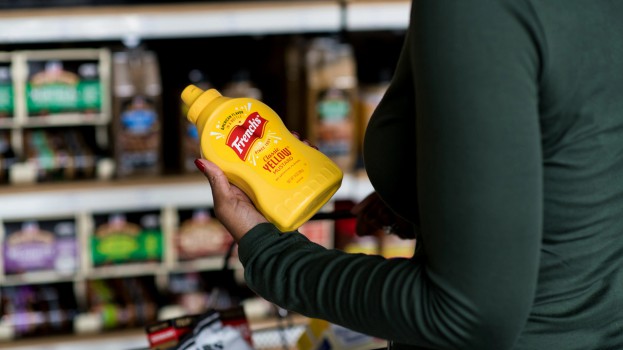 McCormick managed a modest 3% sales increase for Q1 after big spikes in its Flavor Solutions portfolio helped offset some declines in its still-thriving consumer business.

The maker of French's, Frank's Redhot, Club House and Billy Bee topped analyst expectations, reporting operating income of $207 million in Q1 of 2022 compared to $236 million in the first quarter of 2021 and revenue of $1.52 billion in the period.

Sales in the company's Flavor Solutions segment – which provides ingredients and condiments to food service and restaurants – increased by 13.7% year-over-year in Q1 on a constant currency basis.

That's compared to a 1.5% decline in sales in its consumer-facing segment. However, sales rose by 2.2% in the Americas – the company's largest region – and the company pointed out that it was comparing to a very strong Q1 2021, when sales shot up by 35%. Being only 2% lower than those results was a positive sign for the company, with chairman, president and CEO Lawrence Kurzius saying it shows the company is able to "capitalize on the sustained shift to cooking more at home, increased digital engagement, clean and flavorful eating and trusted brands."

The decline also includes some pricing activity to offset the cost of inflation.

Kurzius said in Tuesday's earnings call that people are still cooking things like breakfast more often, instead of using ready-to-eat solutions, citing data revealing that 88% will cook at home more than they did pre-pandemic, he says, which has a positive impact on a company like McCormick during recessionary periods. The company is also reporting double-digit growth in performance nutrition, health and savory snack flavors, as well as continued momentum with alcoholic beverage flavors.

"Our brand marketing is resonating with consumers, particularly as we engage with them online," Kurzius says. It's shifting dollars there to drive greater engagement, especially around new product innovation like its Pizza Pops/Frank's Redhot collaboration with General Mills, which differentiates the brand, as well as anything that focuses on freshness, convenience and flavour exploration.

According to Kurzius, it's building opportunities to accelerate growth by expanding its mid-tier customer base and strengthening leadership in "heat." The company recognized $20 million of special charges and $1 million of transaction and integration expenses related to the acquisitions of Mexican-style hot sauce brand Cholula and natural flavour brand FONA versus $25 million in 2021.

In 2022, the company says it expects to grow sales by 3% to 5% compared to 2021. It's experiencing cost pressure from supply chain and inflation challenges and "will raise prices again this year, where appropriate," Kurzius says.

Kurzius says it's not yet seen significant movement in private label in either direction. He warned that costs are going up for everybody, driven by raw materials, transportation and packaging and that this is affecting brands and private label equally.