Sports betting battle
A bill has passed and suddenly companies are rushing to build SportsBook brands in Canada's new burgeoning (and highly-regulated) consumer market. Sound familiar? Think of single-event sports betting as the new cannabis.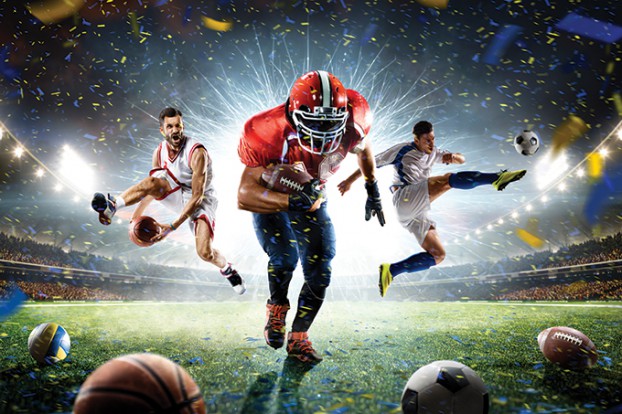 This story was originally published in the 2022 Spring issue of strategy magazine

In June 2021, The Senate Passed Bill C-218, legalizing single-sport betting in Canada and triggering a wave of applications from numerous online sportsbooks looking to tap into the market that is set to officially open up on April 4, 2022.

While the new legislation – which will allow provinces to regulate sports betting – is paving the way for sportsbooks to enter Canada, the fact remains that this is already a competitive space. Betting on single sporting events is currently a $14 billion industry in Canada, according to the federal government, with Canadians conducting illegal betting in both the local black and offshore grey markets.

Ontarians alone reportedly spend close to $1 billion a year on online gambling, of which an estimated 70% takes place on unregulated, grey market websites, making it "one of the five biggest markets in North America," says Scott Vanderwel, the newly-minted CEO of Pointsbet Canada, one of the sportsbooks making a play for the iGaming Ontario (iGO) market this April. Working with the Ontario government and Alcohol and Gaming Commission of Ontario, iGO is establishing a safer online gaming market in the province. "Ontario is a great market to get started in," adds Vanderwel, noting that it's "just shy of half the Canadian potential, and a market that justifies investment and focus."

Boston-based Draftkings – arguably the biggest and best-known name in online sports betting – is also coming to Canada, throwing its hat into the ring alongside homegrown players like theScore BET, Rivalry, and Ontario Lottery and Gaming Corporation (OLG). All of this activity begs the question: With a number of new entrants, and a previously-existing (and robust) illegal market, how do online gambling operators differentiate themselves?

For players like Australia-headquartered Pointsbet, its focus has been to get boots on the ground. Vanderwel was tapped by the company in July 2021, following a nine-year tenure at Rogers, where he was most recently an SVP overseeing corporate strategy, operational improvement and digital operations. The org also hired gaming vet Nic Sulsky as its chief commercial officer.

Pointsbet is a relatively young company that got its start in Melbourne back in 2015. Canada is the third market the online sportsbook has expanded into, after the U.S., which it entered a couple of years ago, explains Vanderwel. "We're big enough to be meaningful but small enough to be scrappy," he says.

While Vanderwel calls out the quality of its betting product, along with the company's concentration on customer support (something sorely lacking across sportsbook platforms worldwide), Pointsbet's focus on partnerships is a big part of what they're betting on to win audience share in Ontario.

"Being local is incredibly important," says the CEO, noting that while there are parallels between Canadian and U.S. sports fans, it's not just about how and why audiences watch sports, it's about what they watch, "and we want to be on top of that."

In turn, since announcing its move to Canada, Pointsbet has become the official sportsbook of Alpine Canada and Curling Canada. It also teamed up with the NHL Alumni Association as its sports betting partner in Canada and announced an exclusive partnership with Dailyfaceoff.com, a sports fantasy analytics organization with 1.5 million monthly users.

The sportsbook also looked further afield than typical sport-focused organizations to build brand awareness and equity, while trying to be authentically Canadian at the same time. The result? A multi-year partnership with popular Canadian mockumentary brand, The Trailer Park Boys, that includes content collaboration appearing on the Trailer Park Boys and Pointsbet Canada-owned channels. The Trailer Park Boys will also appear in Pointsbet's ad campaigns, activations, and events.

As for theScore BET, Ontario is their backyard. And while the Toronto-born company was recently acquired by Pennsylvania-based Penn National Gaming, theScore has always considered itself the number one sports media app in Canada, and the third-most popular in North America.

The company's new structure (as a result of the acquisition) provides its online gaming platform, theScore BET, with the resources to grow its footprint and expand its workforce, said John Levy, chairman, CEO of theScore, in August when the deal was announced.

As far as standing out against other sportsbooks, theScore's mobile app already reaches approximately 3.75 million users in Canada each year, and 1.43 million in Ontario. Its mobile sportsbook, theScore BET, is currently only available in U.S. states where it is permitted (New Jersey, Colorado, Indiana and Iowa), but it will focus on Ontario come April 4.

According to Aubrey Levy, theScore's SVP content and marketing, over 50% of theScore's BET user base currently bet within its "ecosystem," which means they already engage with sports media/content via theScore's app, an integrated experience he says users can't get anywhere else.

"We're not a market leader across North America because we spend more than the competition or because we shout louder. We've given [our audience] what they want on mobile… a better mousetrap," says Levy.

Apart from that, theScore's reputation in the market, and being homegrown, should help it stand out, adds Levy, but so will its business model. "It all ties back to the financial reason we're in the betting business to begin with – which is our belief that people don't treat betting as an isolated transaction. Betting and media are are integrally tied together."

From a marketing perspective, there are some differences between Canada and the U.S., Levy says. "Ontario is very concerned about putting parameters in place to make sure that the large and loud levels of marketing [that happen in the U.S.] don't happen here."

More specifically, the Alcohol and Gaming Commission of Ontario stipulates that organizations cannot use inducements, bonuses, and credits in their marketing and communication materials – tactics that are prevalent in the States and other markets.

Stateside, ad spend in the gaming space is rampant, says Levy. As a "new entrant" in the U.S., Levy says theScore has had three years to build its ecosystem and nail down a strong offering, but it was hard to cut through "the cacophony of noise in the marketplace." Canada is a different story, he says.

As one of only a few homegrown players – which already has an integrated media/wagering ecosystem with its app – Levy says theScore is promoting its sportsbook offering with "a very robust, multi-channel campaign including linear, OOH, and radio, along with a number of key partnerships."

In fact, when Bill C-218 was passed last year, theScore jumped on OOH to "finally" announce its intention to enter the Canadian gaming market, and has been using the same tactics to stay top-of-mind ever since.

"We are content creators," Levy stresses. "So we feel like the market is primed for us to come up with a message and push into channels we haven't really pushed into. I think it works to our benefit that the competition can't just come up here and blast away with promotional [inducement-based] marketing."

Partnership-wise, theScore BET has been named the official gaming partner of Golf Canada, its RBC Canadian Open and the CP Women's Open.

Rivalry is also born and based out of Canada, but has, to date, focused on international sports betting. "It's been very bizarre to be a Toronto-based company and building a consumer product that neither we nor anyone we know can actually use here," says Steven Salz, co-founder and CEO of Rivalry. But now that Rivalry is able to do business in Ontario, Salz says its home province "will be a cornerstone market for us."

That said, Salz doesn't believe that having local roots is a significant competitive advantage. He notes that all the players involved can and will hire people who understand the Canadian market. That's table stakes. "Online sports betting is, everywhere else, a mature and extremely competitive consumer category," he explains. "My co-founders and I come from gaming and esports. None of us are sports betting or online gambling guys. We're technologists who built a sports betting product for our [millennial] generation."

More specifically, Rivalry focuses on esports bettors and games – for example, Dota 2, Counter-Strike:Global Offensive, and Call of Duty – here in Canada. In comparing his company to the other players in Canada's burgeoning online gambling space, Salz says it's essentially Wealthsimple vs. Scotia iTrade or TD Ameritrade. "Two fundamentally different products that do the same thing."

Rivalry's average customer is in their 20s, Salz says, whereas the more traditional online sports bettor is typically 10-to-15 years older. From a marketing and advertising perspective, this affects the channels Rivalry focuses on. According to Salz, if you look at a typical sportsbook, performance and affiliate marketing make up the lion's share of their budget. Instead, "everything we do is influencer-based," Salz says.

"We're second to Barstool [Sports] globally for sports betting brands" in terms of social media engagement. "We have 150 influencer partners," across its markets, and the company is using similar social tactics for its impending launch in Ontario. "We have signed up with a hyper-Toronto-centric Instagram and TikTok influencer who is very on-brand for Rivalry, and we'll do a bunch of content with him to garner an audience here. We market like Hypebeast. Like sneakerhead culture."

Another homegrown player that already has strong Canadian roots is OLG, which launched the province's first legal online sportsbook, Proline+, on August 27, 2021, the same day single event wagering became legal in Canada.

"We were one of the first out of the gate in Canada," says Dave Pridmore, OLG's chief digital and strategy officer. "A few months later, we launched our new expanded Proline sports offerings at retail outlets across the province," making OLG the sole provider of legal in-store and online sports betting in the province, until the other players enter the market on April 4.

Over the past couple of years, Pridmore says OLG has "seen three-to-four times growth in our digital products. And since the launch of OLG.ca and Proline+, we are setting new records in customer growth each week," with the platform reporting approximately 1.3 million customers (at press time).

Just prior to the Super Bowl, OLG announced a five-year deal with the NFL, making it the first official sportsbook partner of the football league in Canada. OLG is also doubling down on branded content via a partnership with Corus, Twitter, and so.da, launching digital sports betting show Game Plan, a weekly 15-min online program hosted by sports commentator Ashley Docking and former CFL player and reality TV star Brad Smith.

For ubiquitous betting brand Draftkings, Ontario remains a significant market. "Ontario is home to some of the world's most passionate, sophisticated, and knowledgeable sports fans," according to the sportsbook. "There are slight differences in sports preferences and a heightened love of hockey, the Raptors and the Blue Jays – but overall the province has extremely engaged sports fans."

Draftkings is relying on its brand positioning and established reputation to win over bettors in the province. "The benefits of playing with a trusted and regulated platform such as Draftkings ensures that the highest standards for consumer protection are in place," said the company in an email to strategy.

"Given there has been a longstanding grey market, there are some operators who will have a higher degree of brand awareness in Ontario," Draftkings sources add. "Though, rather than a barrier, we are looking at it as an opportunity. Our approach has always been to put the customer first in all we do and we believe that ultimately the best product wins."

Although Draftkings wouldn't provide specific details around its marketing strategy, it did say that the company will "rely on data and analytics to drive specific marketing efforts. Whether it's focused on the Grey Cup, the NBA playoffs or a Senators game, we'll localize and customize our promotions to reach fans in Ontario in a meaningful way."

Draftkings says it will also watch for additional exposure around non-mainstream sports, "like the Canadian Elite Basketball League or Canadian Premier League. We saw this with the Premier Lacrosse League in the U.S. They were able to leverage Draftkings sports betting data and insights to attract new viewers and interest in the league."

As Canadians embrace new ways to engage with sports content, sportsbook brands will mine for data to see what's working and what's not, potentially opening the door for new online sports betting-specific analytics platforms, media outlets, and agencies.

Ultimately, sports betting regulation will ensure money stays in the proper jurisdictions and hopefully raises the bar from a product, service, and support perspective. But these platforms, along with upwards of 30 others, reportedly making a play in the newly regulated market, will have to contend for consumer eyeballs, raising sports betting advertising dollars in this country to unprecedented levels. Who are you betting on?