2022 Marketing Awards: The Public Service Advertising shortlist revealed
Who, and what, will win an "M" award at the gala this June?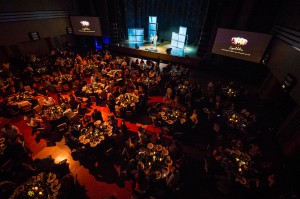 Drumroll, please… The fourth and almost final shortlist is revealed. Below are the campaigns that stand a chance at winning a 2022 Marketing Award in the Public Service Advertising category.
Last week the PS jurors congregated for several days, deciding which work is deserving of a Gold, Silver, Bronze or, possibly, a Grand Prix. The group was led by co-chairs Krista Webster of Veritas and Jenny Glover of Juniper Park\TBWA.
Earlier this week, strategy announced the Design, Multicultural and Craft nominees. We'll be closing the week off with a nod to the main Advertising finalists tomorrow.
For more information on the awards, visit the website here. More information about strategy's first live, in-person event since before the start of the pandemic will be announced in the coming weeks. The show will take place in Toronto this June.
Public Service Advertising shortlist
| | | |
| --- | --- | --- |
| A Lasting Relationship | SPCA de Montréal | Sid Lee |
| AWHL Holiday Series | Assaulted Women's Helpline | Giants & Gentlemen |
| Ballsy Ribbon | BC Cancer Foundation | Rethink |
| Bottles | Mothers Against Drunk Driving Canada | Rethink |
| Bruised Fruit | Interval House | DonerNorth |
| Colours of Pride | Fondation Émergence | Rethink |
| Dawn Of Life | Royal Ontario Museum | Broken Heart Love Affair |
| Day After Day | White Ribbon | Bensimon Byrne / Narrative / OneMethod |
| Don't Get Dieppe'd | St. John's Board of Trade | Target |
| Get Back to Normal | Government of Alberta | ZGM Modern Marketing Partners |
| Give Like They're Yours | Nelson Mandela Children's Hospital | Cossette |
| Grown-up Problems | Kids Help Phone | McCann |
| Happy Birthday, Twitter | Canadian Centre for Child Protection | No Fixed Address |
| Here to Win | World Wheelchair Rugby | Cossette |
| House With No Escape | Assaulted Women's Helpline | Giants & Gentlemen |
| Immortal Poppy | Royal Canadian Legion | Wunderman Thompson |
| It Stops Now | Ministère de l'Éducation | Lg2 |
| Loved Ones Forget Themselves, Too | Federation of Quebec Alzheimer Societies | Cossette |
| Manipulation Loop | Ministère de l'Éducation | Lg2 |
| Mindsets | Canadian Down Syndrome Society | FCB |
| Nature Friendly Token | David Suzuki Foundation | Camp Jefferson |
| Periods For Periods | Periods For Periods | Rethink |
| SickKids Moms Vs. Hard Days | SickKids Foundation | Cossette |
| SickKids VS The Unknown: Be A Light | SickKids Foundation | Cossette |
| SickKids VS: Monument to the Brave | SickKids Foundation | Citizen Relations |
| StreetFluencer | Safe Haven | Daughter Creative |
| The Brave List | SickKids Foundation | Cossette |
| The Lost Tapes of the 27 Club | Over The Bridge | Rethink |
| The Micropedia of Microaggressions | Black Business and Professional Association | Zulu Alpha Kilo |
| The Twelve Thousand | Ally Global Foundation | Veto Studio |
| This Job Can Break You If You Let It | NABS | Cossette |
| Ugly Truths Holiday Sweaters | Canadian Mental Health Association | Citizen Relations |
| Uncomfortable Truth | Human Rights Foundation | Taxi |
| Uncomposed | White Ribbon | Bensimon Byrne / Narrative / OneMethod |
| Very Small Dictionary | Fondation pour la langue française | Lg2 |
| Wall for Women | YWCA Metro Vancouver | Rethink |
| We're Here | Canadian Paralympic Committee | BBDO |
| Writing lights a way out | Amnesty International | Cossette |