Blackjet grows leadership team amid ambitious plans
Sonja Davies, the agency's latest big addition, will start a new division focused on digital production and content creation.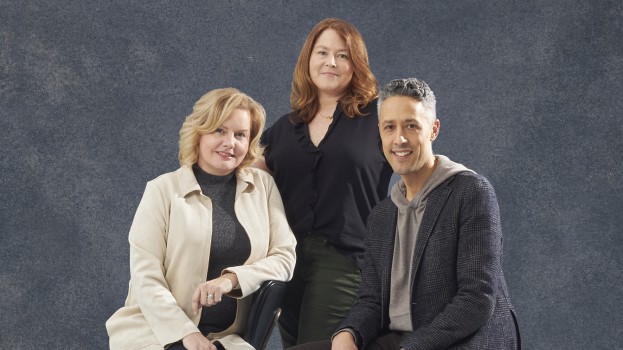 Blackjet has further grown its leadership team, adding Sonja Davies (left) to develop and lead a new division as VP of content & digital and Ali Dalfen (middle) as VP and group account director. Rob Galletta (right), CEO at the agency, says the pair "both embody the entrepreneurial spirit that underpins Blackjet's success."
Toronto-based brand strategy and content consultancy Blackjet is continuing to grow its leadership team.
Sonja Davies, the co-founder and former president of Loopmedia, has been hired by the agency as its VP of content and digital. Davies brings extensive experience in creative and content to the role, with more than 25 years in senior leadership positions.
With Blackjet, Davies has been mandated to develop and lead a new division focused on digital production and content creation.
At Loopmedia, which she co-founded in 1995 and where she served as president through to 2019, Davies built a business out from a production-focused 3D animation house into a leader in brand design, video and animation with a focus on the digital world. She has worked on some of Canada's top brands, including Freshii, RBC, Kiehl's, eOne, Billy Bishop Airport, Scotiabank, CBC Kids and Bell Media.
Most recently, she was president at Toronto-based content studio and post-production house Jaxx, which she joined when it was named Triangle Studios in 2019. Over a two-year tenure she transformed the 27-year-old post-production business, building out new services and rebranding it to better represent that new offering.
Davies is not the first senior leadership hire to be made at Blackjet in the past year signaling expansion for the firm. It also hired Neale Halliday this summer ahead of a planned European expansion, after appointing Paul Mead as its chief growth officer in May.
The agency also hired Ali Dalfen as its VP and group account director in August 2021. Dalfen, a co-founder of the Jack Russell Agency, brings extensive account service experience to Blackjet, having led client management on accounts including Righteous Gelato, Piller's Fine Foods and Bushmills Premium Whiskey, as well as on Nestle, Diageo and McCormick's earlier in her career, when she was working for J. Walter Thompson Canada.
The addition of experienced senior leaders whom have both launched their own agencies will "bring huge value to Blackjet's offering," according to Rob Galletta, its CEO.