Wonder Bread is one of the brands taking part in a sports-themed 7-Eleven Canada contest via the retailer's 7Rewards customer loyalty program.
The 7-Eleven "Game Time Any Time" cash contest is running until Nov. 1 and features random draws for chances to win $2,200 dollars. The contest, urging buyers to "fuel up anytime," includes other CPG brands selected by the retailer as program partners, including Rockstar, Milk 2Go, M&M and its own private label Big Gulp line.
Once the entrant has completed the 7-Eleven app download, and signed up for a 7Rewards account, they can scan to receive contest entries, five for each one of the aforementioned brand participants.
The "Fuel Up Game Time Anytime" contest is coming to life through 7-Eleven store windows, collateral throughout store and also the convenience retailer's app.
"It is a partnership with 7-Eleven," explains Kelly Backer, head of brand marketing and category development at Wonderbrands. "It is a good addition for our product with front facing product in the store and on their app."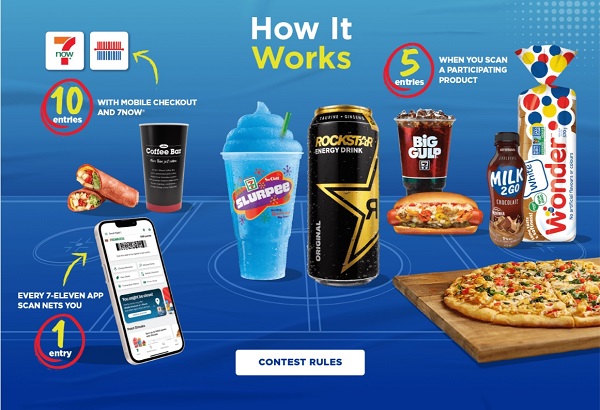 According to Backer, Wonderbrands has distributed to convenience stores for a number of years as part of its channel mix. For this contest, its white and whole wheat Wonder bread portfolio is included.
There is no primary POS, Backer explains, as it is very difficult to set up corrugates in convenience stores because of space restraints.

Backer tells strategy that while convenience is a small part of the brand's overall business (approximately 10%), especially when compared to grocery, it is important to have a presence given the multiple locations consumers shop within any given week and the impulse nature of convenience stores. This initiative is targeting an impulse shopper, where a grocery campaign or content would be seeking to reach a much more planned shop.
The contest is running in 7-Eleven locations in British Columbia, Alberta, Saskatchewan, Manitoba and Ontario.