Interac creates a song to help Canadians shop smarter
The financial services provider is using music to calm shoppers and help them cut back on spontaneous purchases.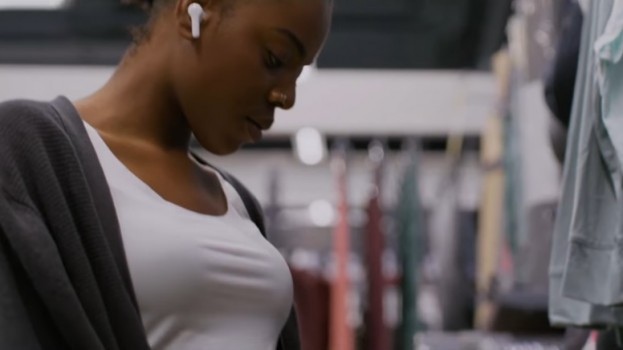 Interac is once again tapping into the power of sound with a new campaign that it hopes will help Canadians shop more mindfully in one of the busiest shopping seasons of the year.
Called "Sound Shopping," the campaign is based on the insight that, in recent research commissioned by the financial services provider, as many as 62% of Canadian shoppers said they are looking for tools that encourage more "intentional spending": making purchasing decisions that fit with financial goals and personal values, as opposed to more impulse or spontaneous purchases.
Interac believes it has cracked that code by harnessing the power of music to calm those shoppers. Informed by research and running across multiple channels, the campaign hinges on an original song that is meant to give shoppers a calming moment of pause as they shop. This is based on another idea found in Interac's research: taking at least a one-day pause before completing a transaction often leads to increased satisfaction.
The song was tested in a research study in which half of participants listened to the "Sound Shopping" track, while a control group listened to the pop music that is usually played in stores. The participants in the "Sound Shopping" group felt calmer, and that feeling was associated with a 98% purchase satisfaction rate.
"We've learned that music and sound can be a powerful medium for our audience and provide a fresh lens to finances, so wanted to continue to explore that with our latest program," says Wain Choi, ECD for Zulu Alpha Kilo, which developed the campaign as Interac's AOR. "Most people are familiar with the idea of music encouraging shopping in store, as a brand that stands for control, our goal was to encourage mindfulness instead."
Interac's research also found that 67% of Canadians are more carefully planning their purchases, with 55% saying they are less likely to spend on impulse purchases. This comes as they feel the pinch from inflation and are prioritizing better financial management: 63% say they are spending more on essentials than they were three months ago and 54% say inflation is making it more difficult to afford the things they need. Interac's own transaction data shows spending on gas and groceries has increased approximately 9% and 4%, respectively, in the last three months.
But while an environment where consumers might be limited in what they can spend, Interac found only 18% of Canadians link intentional spending with feeling restricted, while 77% have positive associations of feeling in control, disciplined, thoughtful, empowered, happy and considerate.
"Exploring the interplay between music and shopping behaviours is very meaningful in relation to our brand purpose of helping Canadians get more out of life by being in control of their money, and also reflects the interests and needs of our primary consumer audience who are actively on the go in their daily lives and seeking tools to help them with their finances," says Matt Houghton, director of digital and integrated marketing for Interac. "They also over-index in both music and shopping affinities, making this approach a natural fit to their needs and interests."
The "Sound Shopping" campaign is "a natural evolution" of last year's "Sound of Spending" effort, Choi tells strategy. "'Sound of Spending' received fantastic mass press pickup and online engagement. Our hope is to meet or exceed that with 'Sound Shopping,' as we are providing users with a tool to help with intentional spending during a time when we know they are seeking these types of solutions."
The track is available to listen to on Spotify, and is being promoted through an integrated media plan across sound-on environments, including Truview for Action ads on YouTube, TikTok ads with influencer collaborations, and ads on the Spotify platform itself. In-mall OOH – specifically, posters – will also feature a scannable Spotify code that directs people straight to the track.