Havergal puts progress forward in new platform
The launch campaign, developed by AOR Angry Butterfly, shows how the school shapes leaders of tomorrow.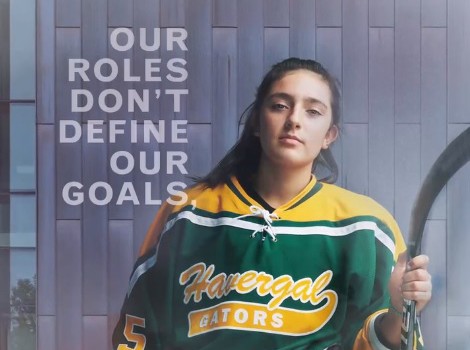 A new brand platform for Havergal College aims to demonstrate how the institution better positions the girls who study there to become compassionate leaders of the future.
Titled "What Progress Looks Like," the new platform – developed by AOR Angry Butterfly, which won the assignment in June – has launched with an initial campaign that features real students photographed on the school's campus, along with overlays that represent the school and its curriculum: STEM materials, musical notes and hockey pucks, in particular.
The new platform is designed to exist as a multi-year, evolving messaging strategy that will continuously reflect Havergal's core values of integrity, inquiry, compassion and courage. The school sees itself as diverse, accepting and a centre for academic and personal excellence – and aims to reflect those qualities in its advertising.
"Our goal is to prepare girls for whatever tomorrow brings," Antonietta Mirabelli, Havergal's executive director of marketing and communications, explains. "With an education rooted in resilience, confidence and global-mindedness, our graduates are prepared to lead and serve with purpose."
The goal is also to loudly proclaim the school's strengths: an innovative curriculum taught in state-of-the-art facilities with progressive teaching methods.
"It was really important for us to showcase the themes and values we heard in our meetings with Havergal staff, students, parents and alumni," says Kristian Visconti, group strategy director for Angry Butterfly. "It's a welcoming, progressive environment – one that takes personal development as seriously as academics. With such a long-standing history, some people have the misperception that it's conservative or old fashioned, but what we experienced was a truly innovative, open environment, grounded in strong principles and genuine kindness."
"There is a boldness in this new creative that differentiates us from our competitors," adds Mirabelli. "It's less about being edgy; rather, the ads underscore the conviction our students have in themselves, their abilities and their dreams. The new campaign honours them for who they are, and that feels good."
This initial campaign will run from September 14 to November 30, including OOH, digital display, print, social media and a full suite of owned materials.