McCain shows how its fries can bring families together
A new approach for Superfries is trying to drive more frequency with relatability.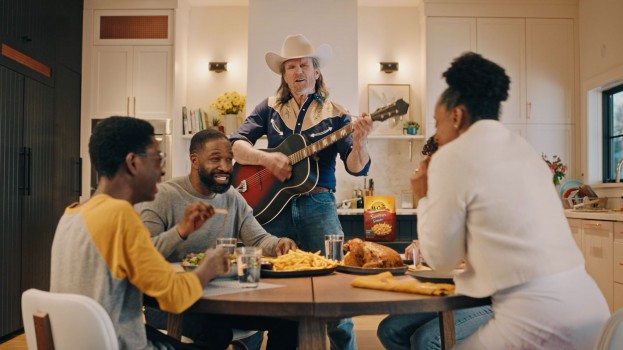 When it comes to food, there's not many things that are universally as well-liked as the humble french fry. McCain Foods Canada understands this fact – and is tapping into it to help the brand realize its purpose in a new campaign for its french fry products.
The campaign, developed with McCain's AOR Rethink, is called "Make It a Fry Day" and is all about courting Canadian families in particular. In a 30-second spot that serves as the heart of the effort, a cowboy sings about the struggles each member of the spot's central family faces throughout the day, before they are brought together at home for a dinner that, of course, includes a tray of McCain's Superfries. The campaign is informed by research that McCains purports 99.2% of people love french fries.
The strategy is a deliberate one, according to Michael Embir, McCain's marketing director. Neilsen statistics, he says, shows that the fry category is typically shopped between four and five times a year by consumers. This campaign's goal is to drive frequency of sale for McCain's french fry products, targeting a specific occasion where they are already most frequently consumed.
"For our french fries in particular, the sweet spot is that everyday weeknight occasion – we call it the shared family meal," he explains. "That is where we see a lot of opportunity for growth in the future."
In particular, Embir says, McCain's is looking to show through this campaign how its products can help more families enjoy the ritual of that meal gathering more, for instance by providing parents who are tired from their work with a fast and easy meal solution. "When you take away the stress of having to spend a long time cooking, or worry about whether the kids will like the food, that makes the ritual more enjoyable," he says. "That's what we're all about."
The campaign also plays into McCain's larger brand purpose, "championing the power of together."
"We realized there's probably nothing else out there, at least in the food realm, that people agree on to this degree," Embir says. "That makes this the perfect opportunity for us to claim the power of together – with french fries being the catalyst that brings people together."
The campaign will remain in market through to spring 2023, likely wrapping up in June or July of next year, Embir says. It includes TV, long- and short-form OLV, Spotify, paid and organic social and influencer integration with TikTok.