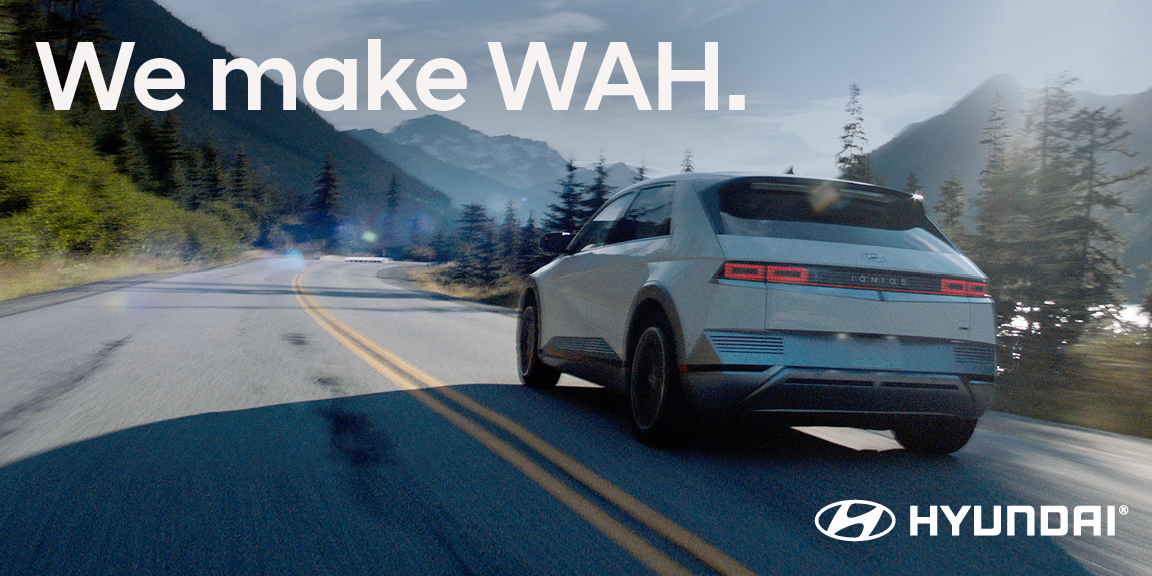 Hyundai is looking to add a new word to the Canadian lexicon by repurposing a South Korean exclamation into the cornerstone of its new advertising platform: "We make WAH."
"Wah," and the Korean character, 와, serve a similar function to the word "wow" in English, reflecting the excitement Hyundai is looking to associate with its lineup of vehicles. It's part of a platform that looks to build on the awareness of its Canadian nameplates and put forward a new, modern image for a brand that "still suffers from a lot of legacy baggage," says Christine Smith, the automaker's director of marketing.
"We wanted to make sure our brand is being reflected by the nameplates of today, versus the attitudes of yesterday," she elaborates. "So we decided to unify all of our product communications under this one platform, and really make sure that Hyundai as a brand is reflected by our amazing lineup, great technology, and an exciting attitude we want to have here in Canada."
But the platform is about more than just creating excitement. "We make WAH" also aims to present Hyundai's lineup as the answer for many Canadians in search of mobility solutions.
"Not just solutions to get them from A to B, but solutions that help enable their next great Canadian experience," Smith tells strategy. "Whether that's getting the kids to their next hockey game in safety with lots of room and comfort, or taking you on your next big adventure to, say, Northern Ontario for a great weekend in the outdoors."
To that end, the new creative looks to show vehicles across Hyundai's lineup in their element: creative featuring the Palisade SUV shows off its "amazing capacity" and how it "helps a family get around or have some fun out on a road trip," she says. Work for the Kona Electric might demonstrate "not only its emissions-free, fully battery electric drive, but also that extra bit of power and boost you want on the highway."
"It's always going to connect back to the amazing features and benefits of our vehicles," Smith adds.
The platform's launch campaign as rolled out across Canada with OLV and owned social, as well as OOH in high-impact spaces in Toronto, Vancouver and Montreal. Digital display is planned for major consumer touchpoints such as Toronto's Yonge and Dundas and Eglinton Centre, as well as Robson and Granville in Vancouver. Strategically selected digital superboards along major highways, roads and bridges across the country round out the effort.
Alongside and as part of the platform, Hyundai has also repositioned its NHL and NHLPA partnerships. The automaker is now styled as the "official electric vehicle of the NHL and NHLPA," and will elevate Hyundai Canada's "Made for Those Who Drive Hockey" to the national stage through the integration of NHL players into brand spots. According to Smith, this move was a no-brainer: "74% of Canadians watch the NHL on TV, so there is no bigger stage, which is the reason we pursued it and ultimately partnered with them. It will be a massive piece of our marketing activities."
Hyundai developed the platform with its AOR, Innocean. Middle Child handled PR.