View from the C-Suite: St. Louis whets a new demo's appetite
Plus, the bar and grill is making significant investments into a new CPG line.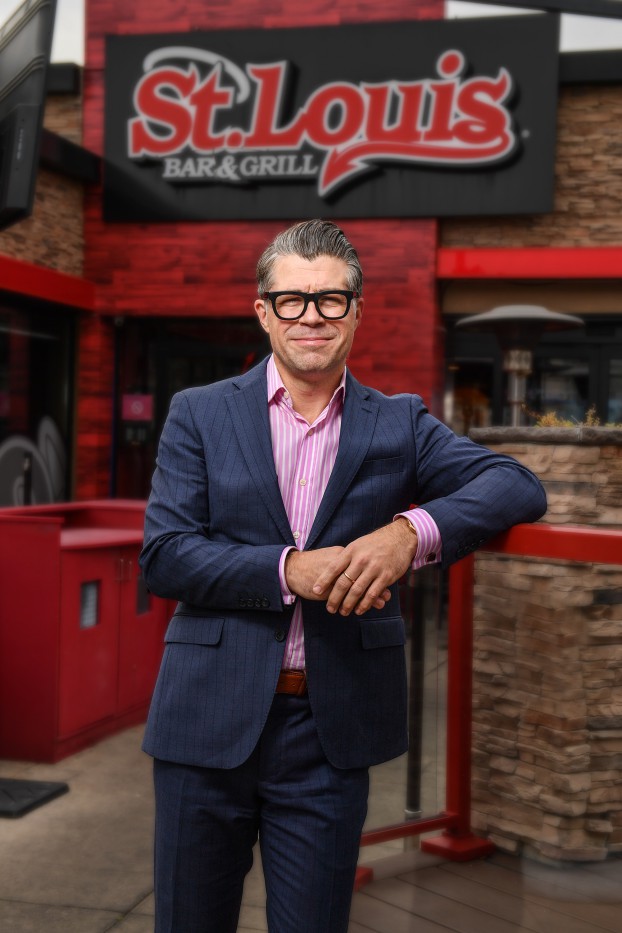 Visions of a sports bar can conjure college memories of sticky floors and cheap pints. And while these nostalgic feelings can remind us of good times gone by, for St. Louis Bar and Grill, to keep its customers coming back for more, the brand knows evolution must be at the forefront.
Which is why in its 30th year, a heavy focus has been on attracting a different kind of clientele. Creating a space where young families and millennials can recognize as a destination for great eats at value prices has become integral to the brand's strategy. And now as St. Louis expands its franchise locations and to include its own CPG line, the bar and grill is ensuring that its products are accessible to Canadians anywhere they happen to be.
Here, St. Louis Bar and Grill's VP marketing, Royal Nasager, tells us exactly how the brand is reaching a new demographic, why evolution is at the heart of its mission and what's planned as the company enters into the next 30 years.
St. Louis has made a push to appeal to a younger audience. What research went into making this decision? How are you targeting a younger demographic?
A lot has changed in 30 years. Attracting new guests and developing new audiences is important to the growth and continued success of the brand. With that, we also remain committed to our most loyal supporters.
With such a strong base, shifting our communications approach has been essential. It's been the core of our work over the past five years. Part of that strategy is reaching new guests, and specifically a younger demographic.
I'm sensitive to raising the ire of McLuhanites [translation: one of Canadian marketing expert Marshall McLuhan's most famous idea was that "the medium is the message"], but so much of this strategy is rooted in where we're speaking to our guests. The channels are as important as our message. Traditionally, marketers were limited to less targeted, less strategic platforms. To attract new audiences, you had to strike a delicate balance to not alienate guests with brand positioning changes. However, we're no longer bound by the same constraints. Smart marketers get this.
To that end, we've heavily invested in developing our digital strategy, ensuring we're creating compelling, relevant content, partnering with the right influencers and using the right social platforms in ways that are faithful to the brand.
As we've emerged from the pandemic, we know that younger diners drive restaurant occasions. They're more willing to try new items and they're typically more engaged. We actually saw millennials dining out more in 2020 over 2019. The motivators are different compared with other cohorts, but the appetite is there. (Forgive the pun.)
While we balance acquisition and retention strategies, understanding our guests has been paramount in the evolution of the St. Louis brand. Soliciting consumer feedback and leveraging our internal platforms and third-party industry intelligence has been central to our approach.
We conduct regular research through internal guest feedback channels and larger brand studies that often require months to gather and analyze. We also utilize digital insights, social analytics, and our partnerships with our larger vendors who regularly conduct research of their own.
We have always had a strong focus on analytics, but more recently have begun utilizing new data coming in from our native app. This is part of our integrated approach of leveraging our 1P data combined with external systems and insights.
Knowing we're cultivating a segment amongst a younger audience, we're meeting them where they are, with the key focus on digital. We have an incredibly savvy following and they expect authenticity. The trust and tenure we've established has been built on staying true to our core values, and operating with integrity. Being "Devilishly Good" is the bedrock of the St. Louis brand.
Could you speak to the CPG line? Why is now the right time to launch, where will the products be available, and how are investments being allotted towards this venture?
St. Louis is unique in many ways. Perhaps most notable of the qualities that distinguish us is our proprietary products. Our signature menu items have always been part of the not-so-secret sauce that sets us apart. From our signature wings to our absurdly addictive garlic dill sauce, Canadians have been "flocking" to our restaurants for these very craveable products for over three decades.
The timing couldn't be better for this new growth channel. Grocery and retail partners see the incredibly strong appeal of the brand. They recognize the associated value in offering the St. Louis line to their customers.
We see a huge runway for extending our brand into grocery. Ultimately, our goal is to make our products widely available to all Canadians, with a strong presence in all major grocery chains across the country. You can expect to see our proprietary wings, our garlic dill sauce, our burgers and hot sauces at a retailer near you in 2023.
We're heavily invested in R&D and product development. We have a brilliant procurement team that has worked tirelessly to ensure our packaged goods match the excellence and quality of the dine-in experience. In fact, we've expanded our internal infrastructure overall to also include a dedicated grocery and retail team to support our goals.
In its 30th year, how has the brand evolved? What do the next 30 years bring?
There's a real emotional connection and positive association that accompanies all touchpoints of the brand. The St. Louis name has a long history of being synonymous with something special.
Thirty years of continued growth speaks to the consumer trust and confidence we've established. We've built that brand equity by consistently doing it better – better wings, better guest experiences, a better environment.
Honestly, there is so much to talk about. St. Louis is a brand on fire. Now with locations coast to coast, St. Louis is a truly national brand. We're also opening more locations year over year than ever before with a focus on Western Canada. We'll be opening another 15 restaurants in 2023 following our hugely successful openings in Alberta. This includes British Columbia (opening fall 2022), Newfoundland and Manitoba.
Canadians love us, and so do folks from around the world. We've received requests for our wings from NYC to the UK to South Korea. So we know there's a real appetite for the brand globally, so international expansion is in the plans starting with the U.S.  We're also opening the first of our newest concept, "St. Louis Good To Go," in early 2023.
As mentioned, we're also putting an emphasis on further extending our famous signature products into the grocery retail space to become a consumer-packaged goods label. It's all part of our vision to becoming a lifestyle brand with heart.
Can you speak to the research that went into sourcing where to bring new locations?
Canadians have been asking us to launch in Western Canada for years. With the market being so important to our development plans, we took our time. This enabled us to find the right partners and locations prior to opening our first in Alberta in 2019.
Since then, we've been pressing forward with a national growth and expansion strategy, and the U.S. is next. In fact, we're already well into our development plans. We're excited to invite our friends in the States to get ready for our arrival – we're bringing the wings.
However, this commitment to growth comes with a strong qualifier for us because it's not just about opening new restaurants. Instrumental in what makes St. Louis so special is our people. Working with the best franchisee partners is central to our commitment to doing it better. Developing these relationships takes time, and a lot of research and conversations to make sure it's the right fit.
How has the brand been affected by inflation, supply chain issues, and staffing shortages? Can you reveal any ways St. Louis has safeguarded itself against these uncertainties?
We're dedicated to doing our very best to maintain good value. It's what our guests deserve, and have come to expect from us.
We have exceptional long-standing relationships with suppliers, so we've been able to mitigate many of the issues facing other systems. As a part of procurement strategy, we are always looking ahead with our ultimate goal being to maintain consistent, fair pricing for our guests while ensuring our high standards of food and beverage quality.
A tight labour market and staffing concerns is something we're all affected by.  We work hard at retaining and attracting talent by providing a culture that embraces authenticity and diversity, as well as one that recognizes hard work and rewards it.
A lot of our staff have been with the St. Louis team for many years, and that goes for our franchisees as well. That's something we're really proud of because it's a testament to how much we value and invest in our people. We can't do it without them, and it's important they know that