Google launches a campaign about news connections
The search engine is using archival footage to convey what Canadians are interested in.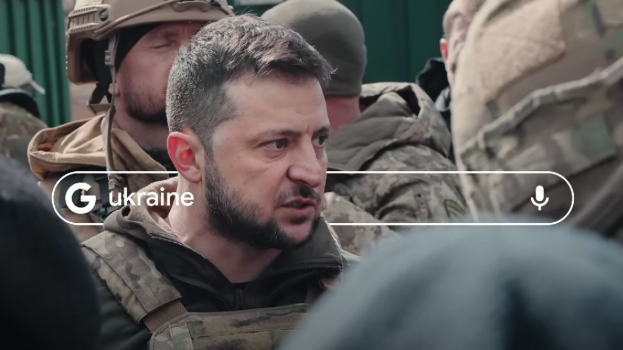 Google Canada and agency Church + State have produced a new spot informed by research from the search giant that suggests it is a primary connector for Canadians to the news that matters to them – a direct shot across the bow of the legislators presently considering Bill C-18.
In a spot titled "Connecting you to all that's news," the search giant harnesses archival footage reflective of many of the issues Canadians care about deeply, including the COVID-19 pandemic, climate change, truth and reconciliation and the war in Ukraine, to demonstrate the point that many Canadians turn to Google as a gateway to the information and news they're seeking.
"From St. John's to Victoria and everywhere in between, when Canadians want to understand or get updated on the most pressing topics, Google connects them to the news sources that provide it," says Laura Pearce, head of marketing for Google Canada. "All of us at Google are proud to be that consistent and reliable connection for Canadians to the news they're searching for."
In some ways, the goal of the campaign was to tap into the varied emotional responses that single news stories can have with different audiences across the country.
"News may be factual, but how people respond to it can be very emotional," explains Ron Tite, founder and CCO at Church + State. "Importantly, those emotions aren't universal. One news story can create completely different reactions from different people in different places. Because of that, we simply wanted to let connecting to news be the focus of this campaign. We worked diligently to license a wide variety of actual news footage that we felt would resonate with Canadians."
The campaign can be seen as a statement by the search provider on Bill C-18 – the Online News Act – that is currently being deliberated by a parliamentary committee. That legislation seeks to force online platforms such as Meta's Facebook and Alphabet's Google to pay news publishers for their content, echoing a similar law passed in Australia in 2021. The Act has drawn sharp rebukes from both companies, with Facebook threatening to ban news sharing on its platform.
Google Canada is not commenting on whether this new campaign is a response to C-18, but it has been public in its criticism of the legislation. In testimony delivered to parliament and shared on its blog, Colin McKay, the company's head of public policy and government relations, said, "This is a history-making opportunity for Canada to craft world-class legislation that is clear and principled on who it benefits." However, he noted that C-18 is "not that legislation."
The campaign launched on Oct. 24 and is running through December across cinema, OLV, OOH, podcast, digital and social. Airfoil handled the broadcast production.