2022 Brand of the Year: BRP sells experiences, not products
How a maker of machines has become a storytelling powerhouse.
This story was originally published in the 2022 fall issue of strategy.
By Will Novosedlik
In 2016, powersports maker Bombardier Recreational Products (BRP) had annual revenues of under $4 billion and a share price of $26. Five years later, that had grown to $7 billion, with a share price of $90.
So, what kind of alchemy turned these growling off-road machines into gold?
When CMO Anne-Marie LaBerge joined the company in 2016, BRP president and CEO José Boisjoli was in the early stages of transforming the organization from a wholesaler to a retailer. His strategy? Don't just sell machines – become an experience company and a leader in the outdoor community.
The company's wholesaler mindset was a legacy of its B2B origins in aviation and transportation. As BRP became independent and publicly traded, it was time to connect directly with consumers.
That was just fine with LaBerge, who had spent the previous 19 years in marketing roles at Telus. She was up for the challenge, given that her former employer had gone through a similar transformation during her tenure, evolving from a focus on engineering and product to one all about customer experience.
One of the primary ways BRP is managing to connect more directly with its customers is through research. "On a quarterly basis," she explains, "we survey up to 1,700 customers who are new to the category. We've been doing this in nine countries since 2020, and we've learned that our customers are more diversified, younger and skew towards female. It's a whole new customer profile entering the category." Encouragingly, she notes, the most recent surveys show stability in new entrants, with many expressing an intent to remain.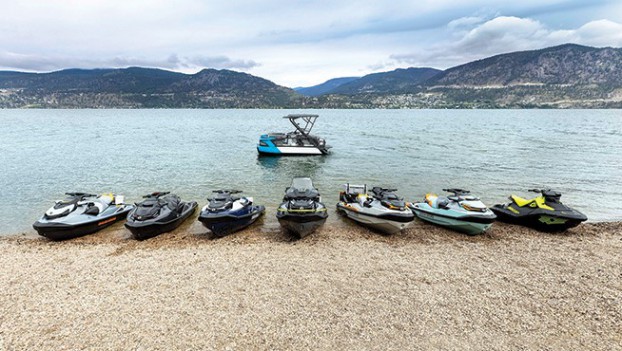 So what's driving the growth? LaBerge cites both a desire to reconnect with nature and the continuing explosion of the "experience economy"– think travel, food and adventure sports.
In 2017, just one month after joining, LaBerge created BRPX, an incubator to tap into the experience economy. Its first initiative was a program called Uncharted Society, a global network of outfitters that offer transformative powersport experiences.
Says LaBerge, "It had its first full year of business in North America and then launched in Europe this past year. I call it the Club Med of experiences. You can go to the Grand Canyon on a side-by-side [a four-wheel off-road vehicle] for four days, spend three days in Yosemite Park on three-wheeled Can-Ams, or try skiing or Ski-Dooing in Utah. And you can do all that without needing to purchase a product or trailer, or build a garage."
The initiative has been so successful that BRP is now testing different iterations. In one, called OutCo, the brand has partnered with Fairmont Hotels and Resorts so consumers can book a stay and an experience in one go – and BRP provides all the gear.
"We ensure that they have a certain standard of care and service," she says. "And, when you get there, you are fully taken care of. We dress you, we feed you, we provide you with a product that is no more than a year old. We're planning to do this with snowmobiling in Finland and with side-by-sides in Dubai. We even have an office in Australia where we're testing a side-by-side experience in the Red Desert."
Another BRPX experiment is something called Playground, which sees the brand partner with private landowners who have access to properties with especially unique features and rare natural beauty. Clients pay a membership fee to access these incredible playgrounds, which BRP curates and provides access to via an app.
But it's not all about servicing existing clients better. The team is also eager to jump on new opportunities when they suggest themselves in the data.
For example, when the quarterly surveys revealed a heightened interest from female riders, the brand took notice. BRP had already put together a task force charged with increasing market share in three-wheeled products – and the company knew that only 20% of motorcycle riders were women, and that women tend to test and learn before committing to a machine purchase. So it set up a rider education program for its three-wheeled Can-Am, the Ryker, and started a group called Women of On-Road. The community now has 16,000 members. Women can go online and share their concerns and questions in a safe environment, asking about things that they may be less comfortable asking more experienced riders.
The result is that 36% of Can-Am Rykers are now owned by women, a stat unheard of in the motorcycle industry. Says LaBerge, "It's almost like a brushfire effect now. There are women talking to women, who are talking to other women. We're seeing exactly the same movement in Europe."
To achieve and maintain the best product-market fit, there is also customer involvement in product design.
"We say that we design our products from the rider down," says LaBerge. "For example, we noticed a group of fishermen in New Zealand who used Sea-Doos. We went fishing with them in Auckland and we could see that they were making all kinds of adjustments to be able to use our product. So we took that learning and created a version based on their needs.
"As we keep on telling our engineers, not everything is about product. It's about how customers use the product, what we can learn from them and how to design to those needs at every touchpoint."
All this first-person learning helps feed the BRP content machine, too. "To win the hearts and minds of customers, we need to become great storytellers," asserts LaBerge. "So we created our own in-house media agency. It has become a platform for real riders to share their stories with the rest of the community, and anyone else who is interested."
One content series, "Where the Pavement Ends," is about off-road riding. Another is about a Brazilian wildlife photographer using a Sea-Doo on the Amazon River in search of a very rare jaguar. "It's real people, real context, real stories," notes LaBerge. "And we have 200 brand ambassadors doing this kind of content."
As a result of the success of these programs, BRP is moving away from a campaign-based to a content-based model. Now that the brand sells products in 117 markets, it's as much a practical decision as it is a brand decision.
"I would never have enough marketing dollars to be able to do traditional marketing in all those markets," she sums. "So we co-create content from Brazil, Europe, Asia-Pacific, North America and share it. My ultimate goal is that people who've never purchased – and may never purchase – any one of our products or services would want to sit and watch our content. We will have succeeded when we can go beyond the riders and really touch the hearts of people who might never be our customers."