Campbell's goes after adult snackers with big Goldfish
The CPG's latest snack innovation, Mega Bites, are being brought to life through POS and the metaverse.

It's an even bigger fish in an increasingly large snacking pond: Campbell's snack brand Goldfish is honing in on adult snackers with the launch of Mega Bites.
New Goldfish Mega Bites are twice the size of regular Goldfish crackers, and come in two flavours, Sharp Cheddar and Cheddar Jalapeño.
As befits a line with a tech double entendre (megabytes), there's a virtual, in addition to point-of-sale component to the launch. In the metaverse's popular Decentraland platform, buyers can enter "Mega Bites Mountain," a massive cheddar mountain where players mine Mega Bites crackers and claim a coupon for a real-life pack.
"We wanted to innovate from a product standpoint, and also how we came to market," says Paloma Bentes, marketing director – snacks, Campbell Company of Canada. The metaverse, she says, is an emerging and important platform. "And we should be challenging ourselves to think differently and activate differently," Bentes says.
This isn't the first time Goldfish crackers have swum in the digital sea. Last year, the brand used Snapchat tech to offer discounts to anyone who could harness their "goldfish brain" and pay attention for longer than nine seconds.
For this launch, marketing includes 3D OOH at Yonge and Dundas square, social assets, and prominent point of sale/shopper marketing assets (see below). These shopper assets amplify the "bigger, bolder, cheesier" USP.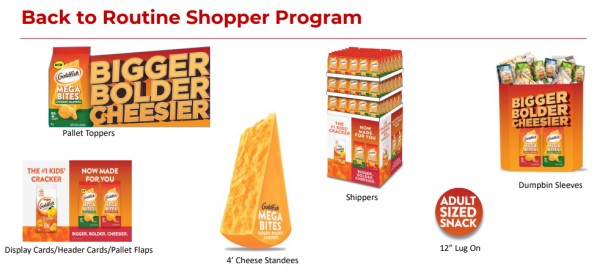 The Campbell's snack brand will execute a back-to-routine shopper program in January, complete with pallet toppers, shippers, dump-bins, standees, display cards and lug-ons. As Bentes notes, two big windows, historically, are back to school and back to routine, and the CPG is launching a "fulsome program in store," to take part.
The big chunk of cheese appetite appeal drives visual interest, both at POS and on pack (see below).
"We wanted to signal this is a larger size for adults," Bentes says, adding it can drive a bigger crunch, and with this size, it's easier to dip. For the launch, it's coming to market with a 167-gram bag, while considering alternative formats in the future.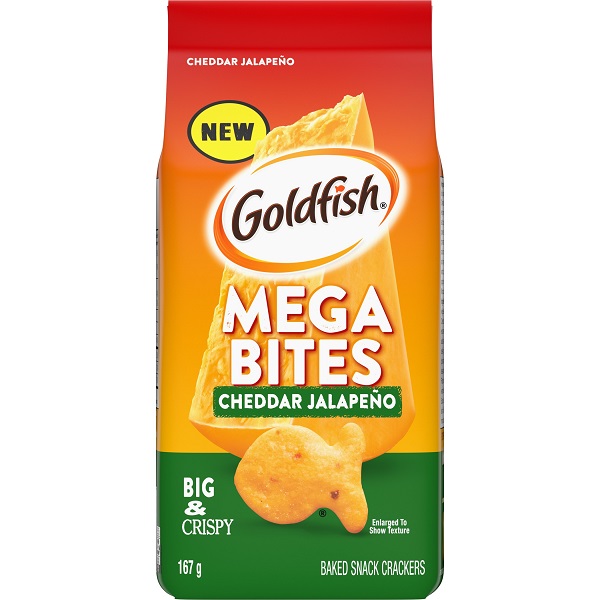 With the average adult forgoing a typical three meals-a-day routine in favour of snacking throughout the day, Goldfish Mega Bites offers a new adult-sized snacking experience, the brand claims.
Goldfish Mega Bites are now available in grocery banners across Canada.
Zulu Alpha Kilo is the creative agency, Mars is handling shopper, Spark is responsible for media planning and Proof is leading PR.