Right to Play finds inspiration in participation
The organization is reminding donors giving kids the chance to play can be life-changing.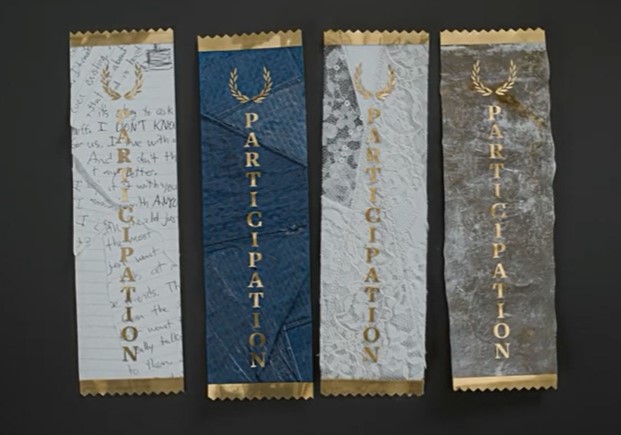 Right to Play is reclaiming participation ribbons, reminding its constituency that children displaced by war, for example, don't have the opportunity to take part in activities others might take for granted.
Right to Play's latest campaign shows the wedding dress of a child bride, a child labourer's mining pan and an old tarp representing camps for children affected by conflict. Through a craft project, these items are transformed into participation ribbons, with the reminder that the "chance to participate and play can change a child's life."
Jake Bundock, ACD at BBDO Canada, tells strategy that when it's highlighting child labour, or other serious issues, it's always based on real stories – it's important to show the destruction of one thing, with the creation of something new.
The light at the end of the tunnel, Bundock says, is important to convey hope.
"This is the first digital acquisition campaign since the 'We Rise' launch [in 2018]," says Rebecca Flaman, SVP, business director, BBDO Canada.
"We Rise" included a large rebrand and was Right to Play's first mass donor campaign. BBDO was tasked to determine the organization's reason for being. This meant pivoting away from tactical resources Right to Play offers kids. Instead, focus shifted more to the impact of donations. This was to combat perceptions that it simply gives away toys, as the name "play" suggests, and that its interventions, like combating child marriage, are serious and vital.
"We also did a domestic branch of the campaign focusing on Indigenous youth in Canada," Flaman says, a pilot for a campaign which will be rolled out globally.
The spot features a Métis youth talking about the importance of speaking up and speaking out. This concept ladders back to 2018′s empowerment positioning around taking back control of one's destiny.
According to Flaman, every not-for-profit is courting the coveted monthly donor so that funds can be better designated and distributed. For Right to Play, its objective is going after new donors and young parents who now more than ever can understand the organization's purpose, given current events in Ukraine and the tragic news that has come to light about Residential schools.
The campaign includes three OLVs and a robust social campaign across multiple platforms, with the hashtag #givearibbon (see below). Social content and digital displays further tell the true stories of children finding hope through the play-based programs Right to Play offers.
Flaman says this is a heavily digital campaign that uses Facebook and Instagram. Compared with 2018′s "We Rise," with broadcast, cinema, online and OOH, this campaign is on a smaller scale.