2022 Brand of the Year: Heinz redefines what it means to be iconic
Never thought we'd say this, but we're obsessed with ketchup this year.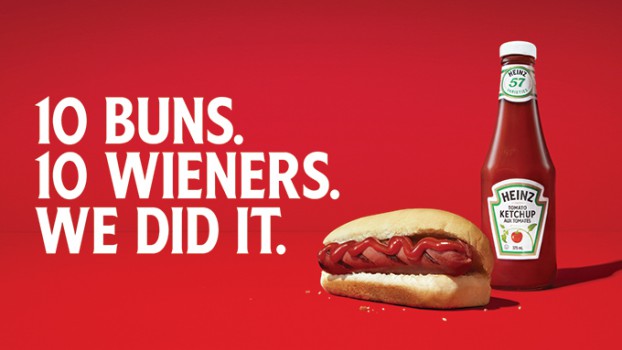 This story was originally published in the 2022 fall issue of strategy.
There are two kinds of icons: those that are a flash in the pan, and those that stand the test of time. If you're the latter, you'd better embrace reinvention – sometimes over and over and over again. (Madonna, we're looking at you.)
In the CPG category, Heinz ketchup is an icon in tomato form. From the brand's inception in 1869, delivering quality products stood out as the company's North Star. Once ketchup was introduced to the line-up in 1876, it only took a few decades before the manufacturer was named the world's largest tomato processing company.
But while the recognizable bottle shape and signature slow-pour of Heinz ketchup has been a staple in Canadian households since most of us can remember, the brand doesn't rest its clout and call it a day. In fact, its marketing has evolved in a way we'd bet most consumers wouldn't expect. After all, when's the last time a ketchup campaign made you laugh out loud?
Weirdly, that's now a question most Canadians can answer. Over the last few years, Heinz's ketchup campaigns, in partnership with agency Rethink, have been witty, sarcastic and culturally on point. Standout campaigns have made us laugh, gotten us (and our U.S. counterparts) talking and even changed how hot dog buns are packaged (more on that later). All the while, Heinz has stayed true to its roots, used self-deprecation to its advantage and reminded us that there's still a place for levity, even after a somewhat tumultuous couple of years.
Don't kid yourself that this was by mistake, either.
"Our iconic brands require more than traditional advertising to solve business challenges and connect with consumers in new and meaningful ways," says Kraft Heinz's chief growth officer Diana Frost. "At Heinz, we continue to reinvent these deeply nostalgic brands via a modern lens, so they can evolve and further cement themselves as cultural icons."
Heinz's heavy hitting campaign, "Hot Dog Pact," was arguably the brand's main squeeze of the year. Dripping in tongue-in-cheek humour, it outlined the travesty that is hot dogs coming in packs of 10 while buns are packaged in eight. Taking a stand against "big bun," the social-led rally cry launched in the summer with a video outlining the issue and asking consumers to take action by signing the Heinz Hot Dog Pact on Change.org. The petition gained 15,000 signatures in the first 24 hours alone, with food and lifestyle influencers spreading the message far and wide.
With the help of PR agency Middle Child, "Hot Dog Pact" hit a whopping $13MM in earned media with over 1.2 billion earned impressions. Overall sales increased by 2.3% from 2019 and shares increased by 1% in the ketchup category. Maybe best of all, though, Wonder Bread folded and announced the brand will be selling buns in packs of 10.
Mike Dubrick, Rethink managing partner and ECD, recalls the moment he knew the campaign had arrived. "The best is when you get a message from outside Ad Land from the people who experience the work in the wild," he says. "'Hot Dog Pact'" was featured on U.S. pre-market business news show, The Squak, and a friend in finance randomly shared it. We knew we were onto something then. Fast forward a few months later and we're on the phone with Wonder Bread and Heinz making 10-bun packs a reality."
"Hot Dog Pact" wasn't the only campaign that relied on the power of social media to amplify its reach. After successfully launching Mayochup (mayo + ketchup) and Mayracha (mayo + Sriracha) in 2018 and 2019, Heinz was on the hunt for a new way to drive sales and conversation by way of mash-ups.
Instead of polling consumers directly, "Crowdsauced" was born, and Heinz took to social media to see what condiment concoctions people had already been talking about. After reviewing hundreds of posts on forums, groups and subreddits, Heinz launched Tarchup (tartar sauce + ketchup), Hanch (hot sauce + ranch) and Wasabioli (wasabi + aioli), along with social campaigns that told the origin story of each sauce and introduced its creator.
"Crowdsauced" was the ultimate online "creeper" campaign – and Heinz knew it. The brand launched videos that unabashedly explained how it had sneakily stalked old posts, and the campaign was extended onto YouTube with Google's Director's Mix, allowing the brand to target hundreds of specific audiences with custom ads for each sauce.
In total, the new sauces added $820,000 worth of product sales and accounted for 1% market share of the total Viscous category. (Sales were also 46% higher than for Mayoracha, the brand's previous mash-up.) Overall, the campaign generated over six-hundred million earned impressions and coaxed Heinz into creating a second run of the products, which wasn't part of its original plan.
These and other campaigns – such as "Draw Ketchup," which asked people to draw ketchup that would inevitably look like the iconic Heinz bottle, and "Bottleneck," which partnered with Burger King and Waze – continue to solidify Heinz's reigning champ status.
"Heinz is a pop culture icon," says Dubrick. "But to maintain that status, it necessitates work that puts the brand into the mainstream press, in conversation at parties, or in the car with an Uber driver."
"We've been focused on driving brand relevance and brand love by prioritizing connecting with consumers through cultural context. We want to engage fans with iconic, clever creative that pushes beyond traditional marketing and breaks through the constant stream of content that is today's norm," adds Frost.
Marketing outside-the-box has paid off, reinforcing Heinz's place in consumers' shopping baskets, and the brand has seen success in building engagement with its consumers and loyal base of followers on its owned channels. "For Heinz ketchup, our leading household penetration across North America has steadily grown more than two points versus 2019, taking into account the extenuating factors of the last few years," Frost notes.
And for Heinz and CPG as a whole, those factors continue to extenuate. But, despite inflationary pressures, Heinz has delivered nine consecutive quarters of growth with solid momentum, managing with a combination of efficiencies and pricing, as well as providing customers with value beyond price: Frost points to the comforting act of enjoying a bowl of Kraft Dinner and Oscar Mayer hot dogs smothered in ketchup – for less than one dollar per serving.
Even with the uncertainties of the economy, Heinz plans to dominate. "We continue to drive our long-term strategy of expanding our footprint through acquisitions and partnerships where we can leverage our scale, and in turn, garner new capabilities for the company," says Frost.
An example of this is the recent partnership between Heinz and NotCo, a food-tech company that uses machine learning to replicate dairy products into plant-based forms. The co-branded plant-based food products combine the power of NotCo's patented A.I. platform and Heinz's product portfolio and scale. The partnership provides Heinz leverage as a key player in the plant-based food space, giving the brand the ability to diversify its offerings to a consumer base that's increasingly interested in alternative options.
So, what's next for Heinz after a year that turned the world of marketing upside down? "Looking to the future, we want to be a leading brand in culture, not just among CPG brands," says Frost. "We'll continue building on our iconic status and driving relevance and affinity with our consumers to cement Heinz's status as a beloved household brand and global cultural icon."