Gilead sheds light on a lesser-known breast cancer
A campaign from the pharma brand focuses on a form of the disease that overwhelmingly impacts people of colour.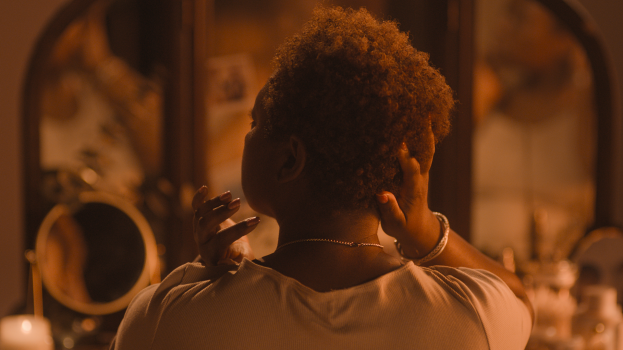 Gilead Sciences Canada has launched a new campaign designed to educate Canadians about the most aggressive form of breast cancer – and the fact it is statistically more likely to impact women of colour and those who are under 40 years of age.
The campaign, called "Reflections: A Journey Through Triple Negative Breast Cancer," was developed with creative agency Bensimon Byrne (supported by Tadiem network partner agency Narrative). And it centers on a pair of two-minute videos that tell the story of two different women of colour, named Laura and Kristal, who received a triple negative breast cancer (TNBC) diagnosis. In the videos, the women discuss their diagnoses and how they impacted their views on life, health and beauty.
"Leveraging the stories of women of colour is so important to this campaign because there is a cultural component to TNBC's impact – you do see a higher incidence rate among Black and hispanic women," explains Dior Sarr, lead of communications and public affairs for oncology with Gilead. "It really does impact women who are in the prime of their careers, have young families and friends and are very active."
Black women are two times more likely than Asian and white women to be diagnosed with TNBC, while hispanic women have an incidence rate 3% higher than white women. These statistics are all the more troublesome because it has a generally poor prognosis and a higher chance both of recurring and spreading within the body than other types of breast cancers, with approximately 40 per cent of people who have primary TNBC seeing it recur following their initial treatment. TNBC accounts for about 15 per cent of all breast cancer cases.
"It is a rare and aggressive form of breast cancer, so you just don't hear about it in the mainstream media. We've tried, over the past several months, to shed light on what it is from a disease perspective, as well as how it affects people as well," says Sarr. "When you are given a cancer diagnosis, it's not just health that's impacted, it also impacts your general wellbeing. There are physical changes and mental changes. I think TNBC allows us to talk about all of that, and I think that's something we should do."
The campaign was made possible through partnerships Gilead has with other organizations "who are really close to these communities and take time to listen to what the gaps are in healthcare in those communities," she says. Those include Rethink Breast Cancer, a non-profit breast cancer advocacy organization through which Gilead was put in touch with Kristal and Laura, as well as the Olive Branch of Hope, a charity that supports Black women diagnosed with breast cancer.
It was also created by a representative group: a marketing team was specifically created that represented the target groups most impacted by TNBC, and patient groups that were representative of the most commonly impacted people were consulted. The videos were also directed by Teaunna Gray, an Afro-Indigenous director and film photographer.
"In the conception of this campaign, it was important that all people involved could relate to the message being shared," Sarr explains. "It really felt inclusive and representative and it was important to have that holistic view."
The videos are running online with targeted promotion focused specifically on the most impacted demographics. That is supported by influencer work with BIPOC content creators to boost the message.