Triple O's tries to lure people away from their desk lunch
White Spot's QSR chain is adopting a new approach to reach workers frustrated by a lack of work-life balance.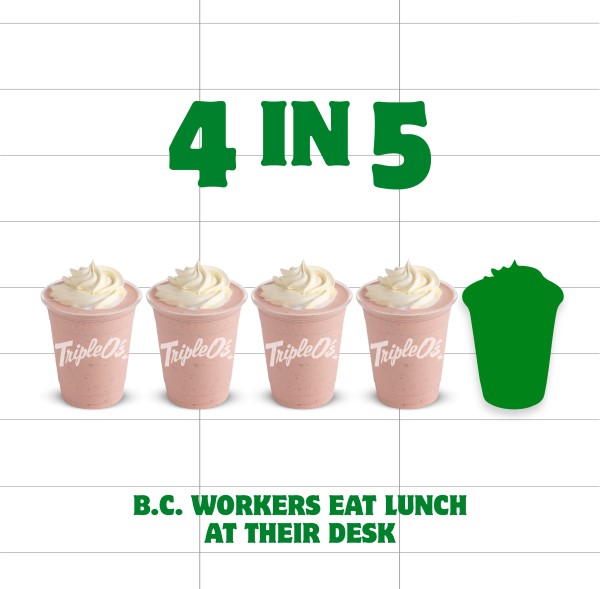 Triple's O's is moving away from promotion-focused advertising in an effort to reach office workers in British Columbia.
Triple O's, White Spot's premium quick service brand, is launching "Lunch Blocker," a lighthearted and interactive way to remind people to take back their lunch break and carve out an unbookable block in their calendar to spend time "OOO," a play on both "out of office" and Triple O's name.
According to Cathy Tostenson, VP of marketing for Triple O's, rather than being promotionally focused, like the majority of its campaigns, the essence of this one is to make people stop, think and act to reclaim their lunchtime.
"Who can't relate to our calendars constantly being booked for meetings that often fall over lunch – especially when working with different time zones across the country?" Tostenson says.
The strategy is informed by a Triple O's Maru Public Opinion survey revealing that almost eight in ten British Columbians eat lunch at their desk, with little improvement in recent years, and 47% reporting their efforts to find a healthy work-life balance are just as challenging now as they were pre-pandemic.
"We couldn't believe the stat was that high and knew our 'Lunch Blocker' campaign would heighten the awareness of the importance of taking a mid-day break," Tostenson notes.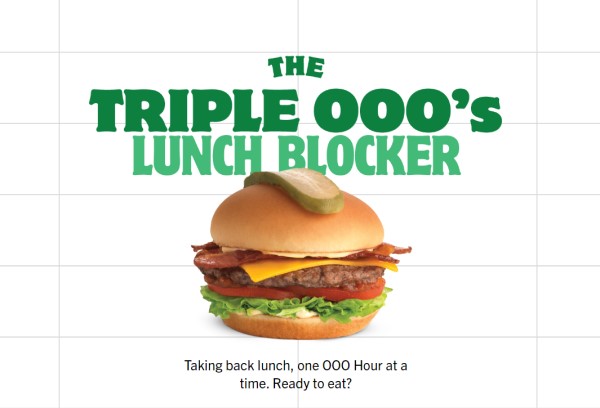 A campaign microsite also helps customers book an "OOO Hour" directly into the calendar app of their choice, and invite colleagues or friends. To celebrate the launch of Lunch Blocker, Triple O's will be giving away $100 Triple O's gift cards to ten of its social media followers.
According to Tostenson, Triple O's campaigns always feature a contesting element to broaden reach and engagement with its audiences. "For many of our campaigns, we also work with our radio station partners for on-air giveaways and influencers, which are other great ways to get our message out."
The digitally driven campaign, created by agency partner 123w, is primarily focused on British Columbia where the majority of its restaurants are currently located. However, the QSR is supporting the campaign in Alberta and Ontario with geo-targeted ads near the four Triple O locations that have opened in each province over the last three years, which the company has identified as primary growth markets.