Pet Valu captures the 'magic moments' of the holidays
The retailer is showing how the unconditional relationships we have with our furry companions lead to lasting memories.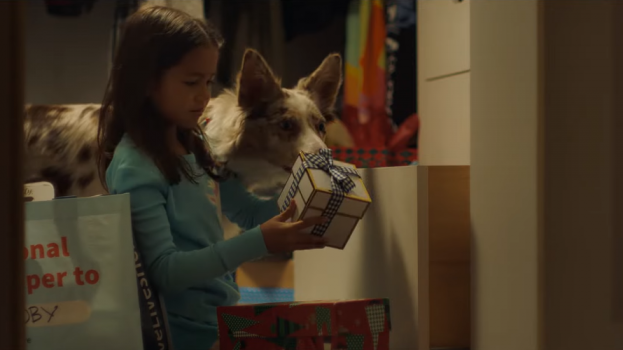 Canadian specialty retailer Pet Valu has launched a new campaign that showcases the magic of unexpected moments of pet-induced love and joy.
"During the holidays, we're so busy shopping, decorating and entertaining when it's really the unexpected, shared moments that make the holidays magical. Many of these moments include our pets," says Idan Driman, VP of marketing for Pet Valu, who adds that the retailer aims to use its animal care expertise and products to nurture relationship and moments between pets and owners.
The campaign, called "Magic is in the Moments," is an extension of the brand's "Love Lives Here" platform, which launched last year. As with that campaign, and the Pride activations that led into it, the goal is to show the breadth of unconditional love that pets give to their keepers – only this time, it's "through the lens of the holidays," says Driman.
Central to the campaign is a 60-second commercial spot featuring a cover of Perry Como's "Magic Moments." The spot showcases a variety of pet owners celebrating the holidays, of course alongside their pets, with classic scenes from a child stealing peeks at the presents they're to receive – aided by their pet dog – to a family gathering for their holiday supper before squeezing into frame for a photo with their pets.
The spot is supported by bespoke national TV billboards airing during primetime holiday movie programming, as well as on national specialty and conventional TV and in English Canada cinemas. Social, radio, Spotify and in-store signage round out the effort.
"With more than 700 stores across Canada, Pet Valu is local and everywhere," explains Driman. "Through our holiday campaign, we want to connect with the devoted pet lovers living near our stores and invite them to visit with their pet and experience what sets Pet Valu apart from other pet retailers."
The campaign's TV commercials were developed by creative agency Arrivals + Departures, True Media handed paid media, Beacon Strategic Communications handled PR and influencers, and Tempo Digital is managing paid social, search and digital ads.