Osmow's delivers a striking spot for the World Cup
With Canada competing, the QSR has enlisted new ambassador and Canadian national team player Cyle Larin.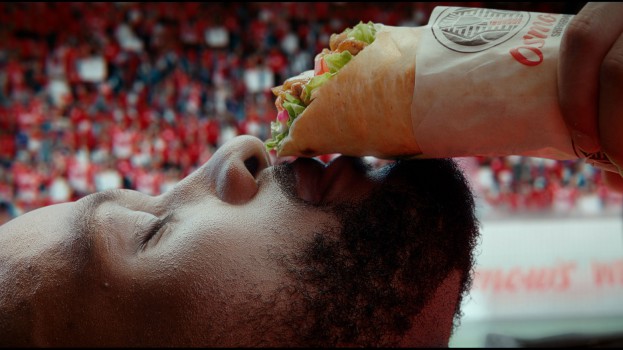 Osmow's is aiming for national pride in a campaign released to coincide with in the 2022 FIFA World Cup – the first Canada will have participated in for nearly four decades, and just the second in its history.
Called "Habibi," the effort features striker Cyle Larin, the squad's all-time leading scorer, in a 30-second spot that opens with him lying on the pitch and a referee blowing a whistle. As medical personnel tend to the forward, things look grim – until the team's manager sends in an Osmow's delivery guy. With a single whiff of an Osmow's shawarma wrap, Larin is revived, drawing cheers from the crowd.
"Canada being in the World Cup is huge for us, and as a Canadian brand, it was very important to us to be involved in the event," says Bernadette Osmow, president and CMO for the Mediterranean chain. "We want to support our country and we like to be in the now. We're always looking for the moment – whatever is going on in the world – and making sure we're part of it while having a positive impact."
The campaign was conceived by Osmow's own team, in association with Adeel Shamsi, a director for Alfredo Films. Shamsi says that while at first he didn't know what to expect when working on the spot – he hadn't met Larin until after the creative was already sorted – the "family vibe" between Alfredo and Osmow's made everything easy.
And it was only made easier when Larin showed up, he adds. It turns out, Larin is a lifelong fan of the Osmow's brand.
"I'm sure he does many commercials, but the fact he actually loves the brand – he eats it and he enjoys it – made it so much easier to work with him," Shamsi says. "We could do take on take on take, and he would be ready to go every time. There was no sighing or looking at the clock. He was very into it."
The spot is backed by a national media buy and will air throughout the FIFA World Cup broadcasts, as well as during Toronto Maple Leafs and Raptors broadcasts. It is also streaming on DAZN during NFL games and airing alongside specialty and conventional TV.
Osmow says she's very proud of the work. "We think every year that we have the best commercial," she explains. "But this year, we think we've really outdone that."