SmartSet hits the small screen
The Canadian retailer launches a rebranding effort featuring its first-ever TV ads.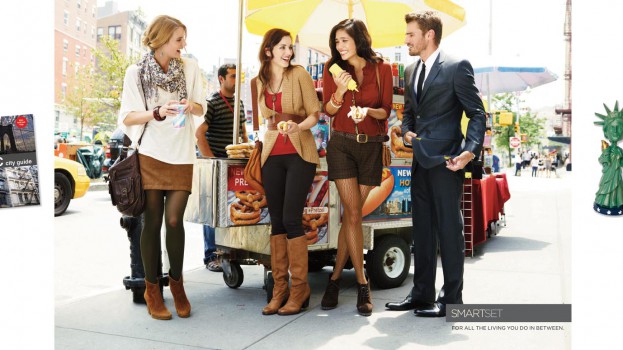 SmartSet has reinvented itself. The Canadian retailer, which boasts 158 stores across the country, has launched a rebranding effort featuring its first-ever TV ads, its largest campaign to date.
Targeting fashion-conscious women in their late 20s, the new positioning shows the retailer as an on-trend, everyday-wear boutique that's in tune with its customers' lifestyles, offering clothing options for "all the living you do
in between." It was developed over nine months by a team from the Montreal and Toronto offices of Bos (appointed AOR in December 2010), along with Chemistry Branding, Loda Retail Design and Vision Critical Research.
Lighthearted TV ads touting SmartSet's role in celebrating the moments leading up to the big ones, like getting engaged, aim to differentiate the retailer by honing in on lifestyle rather than a singular focus on clothes and models. One TV ad, for example, features a woman who's on the path to meeting Mr. Right. SmartSet offers her just the right outfit she needs along the way even though it involves first meeting Mr. Wrong.
"We figured it was time to turn the camera around and really try to get into the lives of our targets and understand what's important to them, the whole idea being to connect with them on a more emotional basis rather than doing the traditional fashion spread," says Gary Watson, CD, Bos Toronto.
More stylish labels for bags, garments and accessories that feature a softer, more feminine scheme and font – so as to not hijack the apparel – are part of the mix. Print and online ads, as well as in-store POS, complement the TV spots. Media was handled by Media Experts.
SmartSet's in-house creative department will be helping Bos' graphic design team to roll out the retailer's new look over the next few months.
Credits:
advertiser: SmartSet
agency: Bos
CD: Gary Watson
AD: Jennifer Saunders
writer: Joanna Barrs
designer: Jeffrey Rosenberg
account supervisor: Maddie Gauthier
account director: Sebastien Moise
prodco: Holiday Films
director: Lena Beug
executive producer: Josefina Nadurata
producer: Amalie Bruun
DoP: Tico Poulakakis
editorial: Bijou Edit
editor: Ross Birchall
music: Vapor
photographer: Cheyenne Ellis