Bikini Village gets a makeover
The nearly 40-year-old brand gets a new logo and store concept as La Vie en Rose aims to make it profitable again.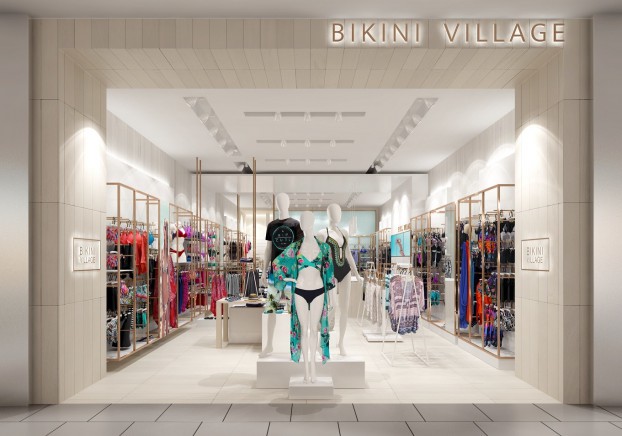 Canadian retailer Bikini Village is continuing its expansion plan with a new look.

Working with Montreal's Optima Design, the nearly 40-year-old brand has launched a new logo and store concept with a more modern feel, using metallics and colours meant to be reminiscent of the beach's sun and sand.

The new logo – its first change since it was established in 1978 – will roll out gradually with the opening of new stores and renovation of existing ones, beginning with its Galeries d'Anjou store in Montreal in May. In June, it will also open a new location in the West Edmonton Mall.

The new store look includes a design inspired by beach cabanas, attempting a calm feel for shoppers. The more modern concept is also meant to have more international potential, as parent company La Vie en Rose Inc. hopes to take the brand beyond Canada in the next two years, says Francois Roberge, its CEO. La Vie en Rose currently operates in 19 countries.

Bikini Village, which was acquired by La Vie en Rose last year, has almost 50 stores in Canada, mainly in the eastern part of the country. At the time it was acquired, the retailer had filed for bankruptcy and was roughly $6 million in debt (it had posted a net loss of $6.4 million for 2014).

"Obviously, something was wrong with the concept," Roberge says. When it made the purchase, La Vie en Rose decided the brand needed a complete 180.

Last November, Bikini Village launched its e-commerce site but its objective is to eventually establish a physical presence nationally. Physical locations are important given that the future of retail is omnichannel, Roberge notes.

In terms of its bricks-and-mortar expansion, the brand is being strategic with its locations. That might mean shutting down some stores in smaller communities with lower traffic and sales (under $500,000 a year), in favour of opening up shop elsewhere.

Roberge says Bikini Village needs a base of about 150,000 primary customers to survive, compared with about 40,000 for La Vie en Rose.

In winter, Bikini Village tends to be the primary shopping destination for swimwear (along with sports apparel stores) but competition from others, like department stores, heats up in summer, he notes, which makes having a strong image and store concept incredibly important.