Juniper Park\TBWA builds its strategy strength
Chief strategy officer Mark Tomblin talks additions to the merged shop's team.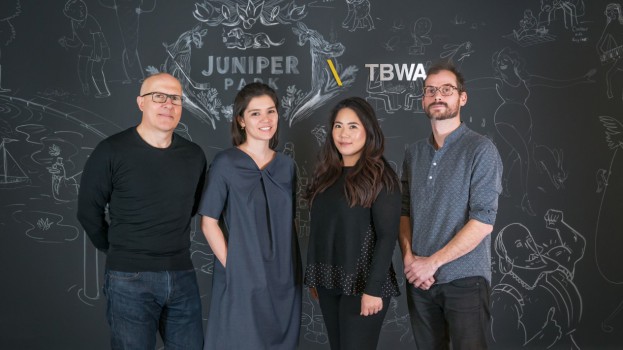 Pictured, left to right: Mark Tomblin, Yeda Baraldo, Min Ryuck, Josh Hansen.

Mark Tomblin joined Juniper Park\TBWA last April in part, he says, because he liked the prospect of coming to the agency at a time of major change, when it was merging the TBWA and Juniper Park teams and ready to build up its expertise. While TBWA in particular has a strong planning legacy worldwide, at the time the two shops joined, there hadn't been much of a planning team in place, he says.

This week, the agency announced a wave of hiring in the strategy department, bringing its headcount up to 11.

New to the agency is Min Ryuck, who joined as head of digital strategy in November. That role was left vacant by Mark Pileggi, who resigned from the agency last summer for personal reasons.

Ryuck was most recently manager of brand strategy, brand and customer engagement marketing at Telus. Prior to that, she was associate director of strategy at Mirum and has held roles with Corktown Seed Co., Match Marketing Group and DentsuBos, along with working on a freelance basis with Zulu Alpha Kilo.

Along with Ryuck, Juniper Park\TBWA has also added two directors of planning. Josh Hansen, who also joined the shop in November, came on from FreshBooks where he was creative director. Prior to that, he held roles on the planning teams at Sid Lee, Leo Burnett, McCann and BBDO.

In December, the shop also brought on Yeda Beraldo in a planning director role. Beraldo worked briefly with Traffik in Toronto following several years with Young & Rubicam, first in her native Brazil and then in Turkey.

Joining those hires is Vivek Menon, who come on in December as a brand data scientist. He previously held a similar role with Mirum and has also worked as a data analyst at Grip Limited.

"I tend to be quite skeptical about the 'next big thing' and I know that our industry in particular is afflicted with 'next big thing-itis'," Tomblin says. That said, data has always underpinned strategy and the impacts of new, digital sources of data are only just beginning to be felt in the industry. Getting it right will be critical, he says.

Meanwhile, the team also added Kareen Sarhane as senior digital strategist in December. She joined following three years with Proximity/BBDO Canada.

Back in the fall, the shop also hired Jasmine Motala and Kristina Kuznetsova as a community managers. Motala previously worked as a digital marketing specialist with photo printing company CanvasPop, while Kuznetsova joined following stints at Mosaic and Tag.

Juniper Park\TBWA's entire Toronto team has now reached more than 140 people. Among its clients in Canada and the U.S. are CIBC, Nissan, Miller Lite, Pfizer, Apple, GoDaddy, Capital Group, The Source, PepsiCo and Virgin Mobile.