Canada has 10 shots at Film Lions
The Cannes Film jury puts through two BBDO entries - including Gold Cyber winner Skittles.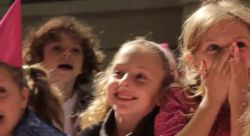 The original advertising celebrated by the Cannes Lions – Film – was shortlisted today. Of the 299 films vying for Lions, 20 Canadian spots are listed – four campaigns and six one-offs.

Campaigns in contention include the latest iteration of the long-running and much-awarded Pfizer Viagra work by Taxi Toronto: "Bowling," "Golf" and "Band," shot by Go Film Hollywood and Toronto's Steam Films.

In the retail category, Richmond Optometry's "Eye Drops," "Buck" and "Hose" from Red Urban, shot by Toronto's Untitled Films, made the cut. Adult TV channel Amour's "Girl 1," "Hot Tub" and "Shakespeare" effort out of Dare Vancouver, produced by Toronto's Imported Artists with Green Dot Films , Santa Monica, also caught the jury's fancy.

BBDO's Skittles campaign – "Cage Cop," "War Fingers," "Hitchhiker," "Cat" and "Skittles Girl" – out of OPC and Proximity, was shortlisted in the Internet Film category, and viral phenom "Pink Ponies" from John St., shot by Sons and Daughters, Toronto (produced for strategy's Agency of the Year Awards), also got a nod in Internet Film. The lone Canadian Interactive Film contender is Vancouver International Film Festival promotion "Warden Sixteen," out of Trees & Rocks Vancouver, produced by Suneeva, Toronto.

Other one-offs in the running include: the FedEx "Change" spot by BBDO, produced by OPC Toronto and Proximity; Toronto Crime Stoppers "Anonymous" by DDB, produced by Untitled; and Familiprix's "High School" out of LG2, produced by Quatre Zero, Montreal. Hyundai's "Country" Sonata Hybrid spot by Innocean Worldwide, Toronto, produced by Toronto's Radke Film, was the sole Canadian car spot to make it through to the final round.

This year Canada had the fourth most entries in the Film Lions category, with 154 of the 3,310 global tally, with USA (938), UK (275) and Brazil (168) leading the pack. Last year Canada won four film Lions and in 2009 took home 10.