Sahara Blog: Day 2
Stefan Danis and his team face their toughest day yet as they race through the desert to raise money for NABS.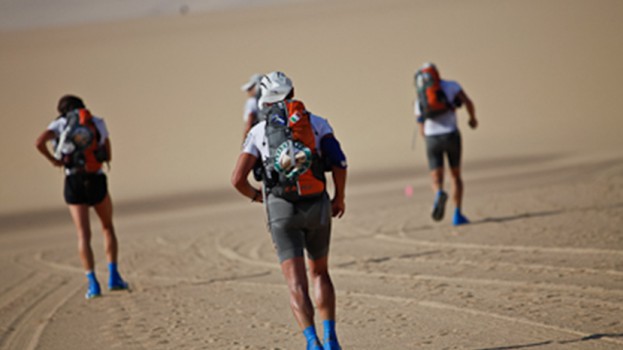 Mandrake CEO Stefan Danis is racing across the Sahara with a team of eight Toronto marcom executives to raise money for NABS. His team came in 2nd on the first day, just 4.5 minutes after the team currently in the lead. Over $91,000 has been raised so far. Follow his progress as he blogs about the experience…

After a little champagne last night to celebrate, nothing could have prepared the NABS crew for what laid ahead.

Good news, the crew is in and safe! Bad news is we lost three to battle; I feel sickened. Tip your hat to them, it was the toughest day of desert running in my three races so far. Temperatures were manageable, hovering around 40 degrees; the issue was the stage itself. Lots of deep sand, horrific for the feet. The crew was out there a lot longer than yesterday, 7.5 to 9.5 hours, causing more blisters and dehydration. People were falling like flies.

I can't even imagine what my NABS mates are thinking about at this time, given there is still a bit more ahead. The camp is set up approximately 500 feet above a valley, which we had to climb to. I was worried for Sandy (how suitable a name – today's stage was called Sandy Horizon) and I ran partway down the hill with RTP's permission to be the sentry and cheer her up. When I saw her, I hurried down to her, teary and so proud of her will, expecting the worst. After the big hug, she said, "Hi Stef, I feel great. It's one of the best days I've had."  Weird things happen here and, bless her, she is looking at the journey and has it all in perspective. We will all be in the medic tent tonight, all mangled up. The team is shocked and they will hopefully find a communal fun in helping each other.

I spent time with Colin last night bathing my feet; not good. Today they gave out and I will have to perform the ritual of drilling through one toenail to relieve pressure, and puncture two blood blisters. I had five blisters last night, three bad ones. Tomorrow I will be on antibiotics; one of them had a half inch of blue swelling. I guess my running technique isn't quite up to snuff.

Mehmet Danis rocked today; he was within minutes of Eric Lahaie, who is also a world class runner. He sits in third and anything can happen in terms of the overall standings. We are lucky to have him around. For perspective, he ran today's stage in 3:58. For most of us, the ratio of speed is a lot less. Mehmet and Eric and Dan (who leads) just float on the sand. Former mate Louie Santaguida was floating too, having cracked the top 10 for a good part of the race, until he got into trouble.

Our team effort was huge today. We marked the Spaniards and basically stayed in their trousers until Checkpoint 1. Ernie was going so fast, Sophie and I were in the red zone trying to keep up. The Italian team was behind us but we never looked back. And then something unexpected happened: the Italians blew by us and the Spaniards. And they looked really strong – there was no hesitation in their gait. We followed, passed the Spaniards but couldn't keep pace. The Spaniards seem to never recover. They finished 90 minutes after us.

Our pace slowed down and my strength returned. We are operating with a number system and I was a 3-4 from then on, which hasn't really happened to me as I usually grin and bear. Today was my turn to do Ernie's job. As it happens in teams, Sophie and Ernie were having a tough day. I pulled as much as I could, trying to negotiate a little more from them (the reverse is standard).

We believed we had an eight-minute lead on the Italians from Day 1 and while I wanted the stage win very badly, it wasn't going to happen, so I focused on trying to stay within 10 minutes for a virtual pole after Day 2. I made a blunder; before Checkpoint 3, we had closed the gap to within meters and I incorrectly assessed how strong we were as both of them are typically stronger than me. We made an attempt to pass them and didn't have enough to create that defeating separation you need if you overtake. We woke up the bear. It wasn't pretty; they looked at us and took off.

By Checkpoint 3, they were 10 minutes ahead and therefore the virtual leader. We went through unbelievable sand dunes, 300- to 600-foot descents where you fly like a bird, choosing how much air time you are willing to risk, feeling like a child, and then the dune awaits you where you schlep up in pain.

On the last ascent, about 600 feet straight uphill, we heard the bongos celebrating their arrival. I looked at my watch and we squeezed as much out of the team as we could. We worked our little buns off running the last section literally against the clock. We think we pulled it off and are virtual leader by two minutes! Crazy isn't it?

Paolo Barghini, who captains the Italian team and is amongst the five to 10 best in the world at this sport, came over to congratulate us. We agreed to smoke my cigars together when all is said and done. We are lucky to have a chance to compete against incredibly accomplished guys and hope we can keep together. We are in serious pain but a good night's sleep will help, after we have team champagne to loosen my pack further. I didn't think we would be in this position but now we know we can compete.

Anything goes.

Leaving to take pictures, the vista from the plateau is to die for.

Carpe diem,
Stef

Read more about Danis' journey on his blog at 4deserts.com, and learn more about the cause or donate at Running4NABS.com.