Nokia plays anywhere
Nokia Argentina and Wunderman Buenos Aires give mobile users the chance to play Angry Birds and Fruit Ninjas on any website in this global execution.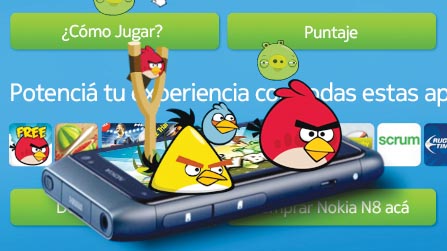 Nokia Argentina has created a nifty interactive ad experience that allows users to destroy websites by way of angry bird or fruit ninja.
To promote the availability of popular apps from its Ovi Store on its N8 phone, the company, working with Wunderman Buenos Aires, has developed "bookmarklets" for its two most popular apps, Fruit Ninja and Angry Birds, which allow people to play the games on any website they visit while surfing the net. All game fans have to do is install the bookmarklets, which are available on Nokia Argentina's website, and then by clicking on the titles in their bookmark list they can simulate the game-playing experience on the website.
Unfortunately for the websites, they end up as collateral damage during the gaming experience, as haphazardly cutting fruit or smashing pigs also results in the dismantling of the sites piece by piece.