Art for good
A Montreal children's hospital gets a revamp from Cirque du Soleil and Moment Factory, while Infiniti creates an art car to raise funds for One Drop.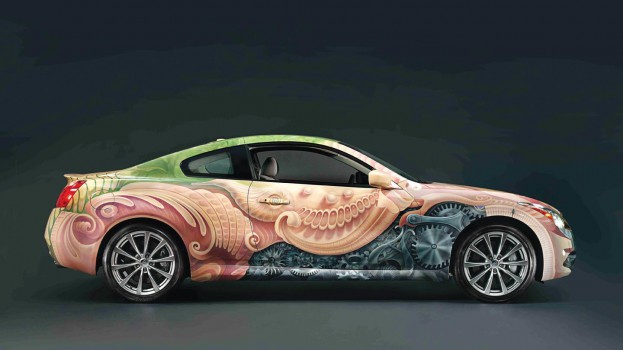 By Megan Haynes and Emily Jackson

Artistic endeavours that have a social conscience always turn heads, especially when they involve innovative tech or a cool car – with the whimsy of the circus thrown in.

Montreal children's hospital Ste. Justine recently got a revamp from local businesses, including Cirque du Soleil and multimedia firm Moment Factory, who were tapped to brighten up a sad space.

With a newly designed waiting room by Cirque as a launch pad, Moment Factory adorned a hospital wall with its touch-projection technology, which it had been developing prior to being approached for the project.

The wall, painted to resemble sheet music, invites kids to run their fingers up and down, creating colour trails and forming patterns, as well as triggering music, explains Julie Armstrong-Boileau, communications head, Moment Factory.

"We wanted something that appealed to children and wouldn't be too cacophonic," she says.

Sensors embedded in the base of the wall work with a projection unit mounted on the other side of the room. "We had to come up with an idea that would be simple technologically for the hospital. We couldn't arrive with a lot of computers and equipment," says Armstrong-Boileau.

"We wanted to amuse them, comfort them, bring them fun and a moment to play," she says of the touch-tech debut.

Luxury car brand Infiniti also got artistic for a project with ties to Cirque du Soleil – one that helped supply fresh water and sanitation to El Salvador's driest region.

The Infiniti G37 Anniversary Art Project Vehicle commissioned Montreal-based artist Heidi Taillefer to design a car inspired by the creative and colourful force behind Cirque du Soleil.

The art car raised $55,000 at a private auction held in November for One Drop, an initiative of Cirque founder Guy Laliberté, committed to financing water initiatives in developing countries.

The initiative was promoted through Infiniti.ca and the brand's YouTube channel, with creative by agency TBWA, as well as press efforts by PR firm Cohn & Wolfe.

In Canada, Infiniti has been the official automotive partner of Cirque du Soleil since 2007. The partnership has gone beyond basic sponsorship as demonstrated in the 2008 Infiniti "Double Lines" commercial, where a Cirque du Soleil performer was featured doing acrobatics alongside an Infiniti car.