DAOY Honourable Mention: Leo Burnett's digi-real ramp-up
The agency changed its game to grab digital honours in fourth spot.
Leo Burnett, a first-time contender for Digital Agency of the Year, nabs fourth place with an honourable mention. The agency has been ramping up its work in the digital and social space and the resulting campaigns have been recognized through countless award wins over the past year alone.
The agency won two Bronze Lions at Cannes for its Ikea and Raising the Roof campaigns. It swept the Andy Awards with four Golds, two Silvers and a Bronze for its work with the charity organization and was the only Canadian agency to win hardware at the show. Not to mention, Leo Burnett Canada won the first-ever Agency of the Year award presented at the 62nd annual ADCC awards show, Directions, as well as eight Gold, 25 Silver and 32 Merit awards.
Leo also added some creative ammunition this year. In March, Stephen Wegner joined the agency as creative director after having spent the past 11 years at Taxi in the same role.
Dom Caruso, president and COO, says the agency's success comes from its knack for mixing the real-world with digital, which was evident in the James Ready "Spelling Bee Lottery" campaign. The program combined product packaging, social media and gaming that encouraged purchase incentive and fan engagement, and won a Bronze Pencil at the One Show Entertainment Awards. The beer brand also took home the inaugural Globe Creative Effectiveness Prize for last year's "Help Us, Help You" campaign at the CASSIES.
Leo Burnett examines exactly how a brand exists in people's daily lives and frames its purpose in a human way, says Caruso. "We might come up with something that resembles a stunt, but it will in turn create a strong social media component," he says. "We approach it in a way that allows for several different possibilities."
In September, TD Bank Group confirmed the appointment of Leo Burnett as its creative agency of record in Canada, ending its quest to consolidate offline and digital advertising, as well as social media and merchandising.
"TD Bank Group was looking for an agency to manage all its needs in an integrated way," says Caruso. "We believe that digital and social can't be separated as different disciplines. It's got to be completely integral to how we run things."
The agency plans to continue the integration of social and digital into its overall practice. "You won't see us creating any new business units, but we will look to bring people in who are inherently digital in their skill set and passion," says Caruso.
Read on to see which campaigns helped Leo Burnett win honourable mention in Digital Agency of the Year.
Sobeys sets the mood with food
Leo Burnett needed to develop an app that would emphasize Sobeys' passion for food, and provide some form of utility that users couldn't get anywhere else.
The agency discovered that the target (women aged 30 to 50) had a connection between how she feels and what she eats. So they created the Moodie Foodie app, which serves up food inspiration based on your mood. From flirty, feisty and playful to carnivorous or experimental, no matter how the user feels, something will be found to hit the spot. She could scroll though the moods, tap the one that best captures how she's feeling and see all the foods that match the mood.
A multi-tiered media campaign supported the launch to drive awareness and downloads. Plus, users can share their moods and foods with friends on Facebook or Twitter, driving more downloads and participation.
Moodie Foodie generated 20,000 downloads in its first month and was on iTunes' "What's Hot" list at a 4+ star rating.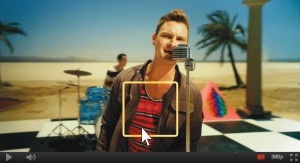 Cheer digs it and gets it
Leo Burnett's challenge was to introduce P&G's Cheer laundry detergent to a new audience, millennials, and do so without a costly traditional media campaign.
Rather than try to sell the demographic a laundry brand, the agency tapped into a key emotional driver for the group, the desire to express themselves and share with the world.
The campaign featured an innovative experiential program that combined YouTube, Facebook and a technology innovation that would generate social buzz. In partnering with indie band Strange Talk, Leo Burnett created the first-ever music video that let people click on stuff they liked and win it, along with a sample of Cheer.
Every piece of the campaign drove to a Facebook event page, where people could RSVP to the release of a new interactive video experience. When the video went live, all iMedia changed to direct people to the video on the band's YouTube channel, where people were invited to search the video for hidden colourful rewards, like hoodies, leggings, tops, sunglasses, iPods or a new bike. Clues were released every day to help people find the "hotspots." To claim a prize, winners were directed back to Cheer's Facebook page, and the brand behind the experience was finally revealed.
Within two weeks of launch, the video generated over 366,000 YouTube views, which led to 63,200 Facebook fans. Interest in the video pushed it to number one on Billboard Uncharted, and Contagious magazine named it one of 2011′s "Most Contagious Videos."
The campaign has won numerous international awards including Web Marketing Association Outstanding Social Media Campaign, a One Show Entertainment Bronze Pencil, One Show Interactive Merit and Facebook Studio Shortlist.
James Ready plays the lottery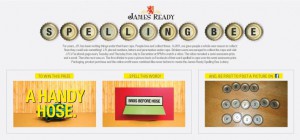 With the gap between discount and mainstream beer disappearing, the price advantage that James Ready historically enjoyed was eroding, and the brand was at serious risk of losing drinkers.

Leo Burnett decided to take consumer participation to an even higher level with the use of bottle caps. For years underneath each cap, drinkers discovered one of over 600 surprise messages like board game pieces and instructions.
The agency launched a campaign with an in-case letter, behind-the-label message and a Facebook post that introduced the latest J.R. caps and promotion – "The James Ready Spelling Bee Lottery," which combined packaging, real-time drinker participation and social media.

Each new James Ready cap would either feature a letter, number or form of punctuation. Drinkers were encouraged to save these game pieces and then visit the James Ready Facebook page on a specific date and time. James Ready then posted a video featuring a word and prize. The first drinker to post a picture of that word spelled with their collected beer caps won. Twice a week over a six-month period, drinkers were told to visit J.R.'s Facebook page at 5 p.m. where a video was posted that revealed a prize and a word.

Leo Burnett achieved a 36% increase in fans sharing the content and generated a reach exceeding 19,000. The Facebook page generated 24% more fans, while posts and shares produced a 221% increase in "likes."