MAOY Honourable Mention: ZenithOptimedia mines data and taps content
The agency is fresh from rebranding as the place to go for "Live ROI."
For ZenithOptimedia, when it comes to creating work worthy of a MAOY mention, it's all about content and data. The agency has a lot more of it to create and sift through too, signing four new clients in the past year.
The increased use of data to mine efficiency for clients starts at the top, with the ZenithOptimedia Group rebranding itself as the "Live ROI" agency earlier this year, taking the media co's position as "The ROI Agency" and moving it into real-time. This update gives the Canadian office access to global ZenithOptimedia tools like the research database Touchpoints ROI Tracker.
Sunni Boot, CEO, ZenithOptimedia, says increased use of data has meant changes in areas from staffing (the agency just hired Xavier Lautour from Havas Digital Media's Paris office in the newly created position of head of analytics), to the amount of time it saves executives because of increased efficiency.
"Because of technology we can work faster and more accurately. It allows us to take more risks and be more creative because we get a quicker validation of whether media is being used properly," she says. "That frees up time for senior people to work on the creative executions they signed on to do. No one signs on to a media company to do discrepancies."
One such creative campaign from ZenithOptimedia this year was L'Oréal Canada's branded content series Canada's Best Beauty Talent, which aired around Canada's Got Talent on Rogers on Demand.  "We have to use media brands and custom content to break through the endless clutter. Digital has absolutely increased the clutter," says Boot.
The program garnered over 160,000 views during its run from April to the start of July, and taught L'Oréal a lot about how it will use media going forward, says Marie-Josée Lamothe, VP and chief marketing and corporate communications officer at L'Oréal Canada.  "This initiative taught us that the future of media will have this in-between where it is about talking to a specific community about a common interest and being part of that community," she says.
On the data side, a program for Purina with Corus Entertainment let the pet brand place and pay for ads on a cost per acquisition (CPA) model to promote its MyPuppy and MyKitten online programs. The agency provided Corus with access to the Purina live dashboard of real-time registration data, which allowed them to schedule ads in programs where they received the highest response rate and move them on the fly. The program allowed Purina to spend 72% less on marketing this year, according to a company representative.
Looking ahead, Boot sees more growth for content- and data-driven initiatives. "I see us challenging technology, developing original content and working with our media partners to utilize more of their content. Media companies have the talent, knowledge, presence and audience so I really see growth in that area. I definitely see growth of data, how we can manipulate it and tease more insight out of it to make smarter, more informed marketing decisions."
Read on to see which cases helped ZenithOptimedia capture Media Agency of the Year honourable mention.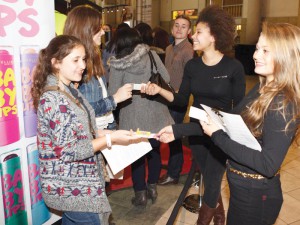 Maybelline uses boy bands and fairy tales
To create excitement about the launch of Maybelline New York's Baby Lips, ZenithOptimedia focused on the target's (women ages 13 to 24) love of movies and music, offering them the opportunity to attend a highly-coveted musical performance, a movie premiere, and the chance to receive Maybelline products.
The launch kicked off with a TV spot in digital cinema pre-show in Toronto, Montreal and Vancouver, created by Sony Music. This drove consumers online for the chance to win exclusive prize packages for the One Direction concert in Toronto.
A second wave of cinema spots ran in digital lobby screens featuring a seven-second tag created by Vervegirl magazine on behalf of Alliance. This tag drove the target online to enter the "My First Kiss" contest where girls could tell their first kiss story for a chance to win tickets to the Mirror Mirror movie premiere and a Baby Lips prize pack.
Activation at the One Direction concert included co-branded signage and a green screen photo booth where fans were encouraged to line up for photos and Baby Lips samples. Photos were posted online to facilitate social sharing.
Baby Lips was also sampled in three of the eight markets where Vervegirl screened Mirror Mirror. The three "First Kiss" contest winners were presented with prize packs at the screenings.
Baby Lips was the fastest growing product in the lip balm category between December and June. The campaign exceeded sales goals by 25% and achieved a market share high of 5.2% four weeks after the contest launched.
Ubisoft Canada goes rock 'n' roll
Ubisoft Canada's Rocksmith was the first videogame to plug into a real electric guitar, but was being launched into a declining segment populated with toy guitars. ZenithOptimedia zeroed in on guitar players and music fans, and partnered with music authorities to establish the brand's "rock" credentials.
With presence at large rock music festivals (including Osheaga, Uproar and Heavy T.O.), concert-goers could try the game. The experiences were captured by AUX TV, which created two-minute video capsules that aired in July, August and September, and were simultaneously posted on the AUX TV website, Facebook and Twitter.
The capsules were also shared on Rocksmith Canada Facebook pages, in addition to Ubisoft Canada and U.S. YouTube accounts. The content was supported by YouTube-promoted video ads and Facebook interest- and demo-targeted market ads.
In partnership with Exclaim! magazine, ZenithOptimedia repackaged Facebook content created for the online publication, and created a paper version distributed to the full circulation with an on-cover feature.
The launch of the game was promoted with 30-second TV ads and 15-second pre-roll and online banners on guitar-focused, community and gaming websites. On release day, homepage takeovers took place on YouTube and IGN.
The campaign connected the brand to its audience, providing an authentic experience across live and digital platforms. Over 150 million impressions were generated, with 860,000 online interactions.
Kia drives change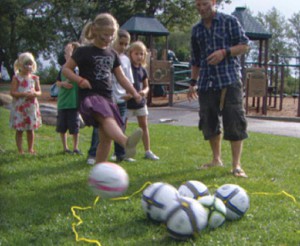 Kia's youthful target had an above-average interest in supporting community and a positive living environment, so the car company came up with "Kia Drive Change Day" – a grassroots movement encouraging Canadians to become champions of change in their communities.
Zenith developed a multi-pronged, fully-integrated campaign in collaboration with media partner Shaw that included TV, radio, digital, print, social, mobile, live events and local dealership involvement.
All elements drove to DriveChangeWithKia.ca, where the target was inspired to get involved, with tools to amplify impact, drive conversation and create content. An interactive map, coupled with Facebook and Twitter feeds, encouraged consumers to share their ideas for "Acts of Change" and post their events to the map tracking the movement's growing momentum.
Shaw produced 15-second customized vignettes and digital ads (featuring celebrities like Anna Olson, Paul Lafrance and Susan Hay), providing inspiration on how to "Drive Change." Shaw celebrities led and participated in local events on Aug. 21 (the first annual Kia Drive Change Day). Seven specialty networks ran Drive Change-themed movie marathons sponsored by Kia, along with homepage takeovers across 45 websites. Following Drive Change Day, TV spots, digital ads and newspaper advertorials thanked Canadians for getting involved.
Kia also offered Canadians the chance to win $25,000 towards a community project of their choice, with 225 projects nominated. The campaign garnered 15 million digital and 127 million broadcast impressions.