CASSIES Bronze: Lottery invites Atlantic Canadians to ask away
Transparency pays off in an effort to change public opinion about the lotto.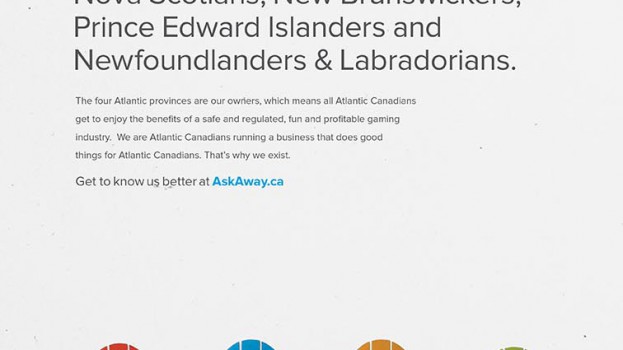 BRONZE: Services General
Situation Analysis Atlantic Lottery is a Crown corporation responsible for the operation, regulation and management of lotteries in Atlantic Canada, and since 1976 it has generated more than $6 billion to help fund roads, healthcare and education in the area. The problem was that few Atlantic Canadians understood the positive impact the lottery was having. Worse, there was mistrust and misconception – egged on by media stories about gambling addiction and retailers winning more often than they should. In June 2011, Atlantic Lottery started to redress the balance.
Strategy & Insight The target audience was "involved Atlantic Canadians" over 35, well educated, active in public affairs, and leaders of public opinion. They seek out information and can see through corporate spin. Talking at them would clearly not work. It was time to put transparency to the test.
Execution The campaign began in June 2011, and centred around Askaway.ca – a central hub that encouraged totally transparent question-and-answer sessions between the Lottery and consumers. The site presented the lottery in a way Atlantic Canadians had never seen before. Everything was conversational, friendly and human, with the message carried by 60- and 30-second TV, newspapers, business magazines, video pre-roll and Facebook.
Results This was the first year of a five-year campaign, and at the end of year one unfavourable opinion had decreased to 34% from 38% versus an objective of 36%. Awareness of public ownership jumped to 43% from 36% compared with the goal of 39%. Awareness of transparency increased to 31% from 28% against an objective of 29%. And lastly, awareness of the lottery as providing safe and regulated gambling rose to 29% from 26% against a goal of 27%.
Cause & Effect "Ask Away" represented an entirely new communications effort, and there was a clear correlation between the advertising campaign and the interactions on Askaway.ca.
Credits:
Client: Atlantic Lottery
Category manager: Maureen Wojick
Agency: Revolve
CD: Matthew Allen
Senior copywriter: John Smith
AD: Sam Archibald
Group account Director: Nelson Angel
Account director: Patricia Nelis
Account co-ordinators: Kim Mosher, Victoria DeWolfe
Digital director: Adam Kruszynski
Production partner: Digitalkitchen