The newest Lion emerges and takes Cannes in a new direction
The inaugural Innovation Lions category, in which Teehan+Lax was mentioned on the shortlist, but did not win an award, celebrated innovative work and helped the fest to further develop the judging.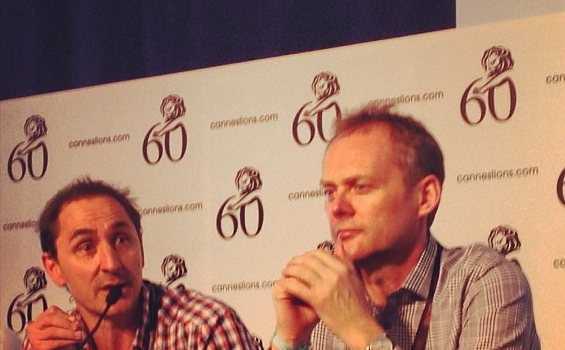 This is the first year for Innovation Lions at Cannes, and in an unusual twist on the closed-door cone-of-silence process, the shortlisted cases were pitched live before the judges, who peppered presenters with questions in a theatre open to delegates.

The jury itself, led by Cannes vet David Droga (pictured, left), creative chair of Droga5, also goes beyond the typical agency rank and file to include tech and digital company experts from the likes of Google, Intel, Facebook and Microsoft. The inaugural Innovation jury president says "from the diversity of the jury and broadness of the entrants, I feel like this has opened up a whole new world for the festival."

With a brief to find things that are useful and create a platform for further momentum – not a solution to a problem no one has – they judged a diverse range of software and hardware innovations, some industry-facing, some consumer-facing. "On some levels you're comparing a new product or a new service," says Droga, "some things are coming from a billion dollar company or people in a garage." But regardless of hardware or software, big or small, the criteria was to create something that people could build on.

The Grand Prix went to Cinder, an open-source platform for creative coding (writing custom software for a creative project) out of the Barbarian Group New York, which some jury members had previously known or used. Droga explained that the winner had created something that contributed to several entries at the Festival, embodying the spirit of innovation and progressing communication, "not creating disposable things that will gather dust – creating things that will push us forward." The Grand Prix also signals the skills that agencies should master as their remit evolves into building and prototyping, rather than outsourcing.

The other three Innovation Lions went to "Two Screens Are Better Than One," a new type of phone out of Yota Moscow, "Thunderclap," social media tech out of DE-DE New York, and Mastercard Display Card, for Getin Noble Bank, Warsaw, which shows account balances.

Droga comments that the winners go beyond campaigns, and will elevate the industry and categories. "We felt these are the ones you'll see out in society – they serve a purpose, and that's what real innovation is for us."

Cannes Lions CEO Philip Thomas says the conversations on how to acknowledge the technology behind the campaigns started in 2010, and they spent a long time trying to get it right. "If Cannes is where you come to see two-way phones from Russia, that's exactly the way we should be going."

Droga emphasized that all the winners are innovation, that is "great now, but will grow momentum." And with advertising under duress, he says these are the kinds of ideas that protect our industry. "I think it will be the most important category," he says, quipping that they'll always need someone from Japan on the jury, because "every time we thought something was innovative we'd hear it wasn't new in Japan."

When strategy asked if there was any discussion on streaming judging between products and software – tech developments the industry can use, versus consumer-facing products, Droga replied, "There's no question that there was a lot of chat about judging all these things together," adding that they are in discussion about categories, and that the first year was about celebrating work as well as developing the judging.

Droga also said that one by-product of the first outing was that the jury loved a lot of of the innovation they saw, but that some of it was premature, sparking the jury to want to help further develop the ideas, and that he'd love to create some feedback mechanism whereby the juries can share their expertise.

Canada had nine entries in the new category, and Teehan+Lax scored one spot on the (very short) shortlist, but did not make the final four out of a field of 270 entries.