A different kind of resume
Droga5's Ted Royer and Leo Burnett's Judy John share what made some new hires stand out from the pack.
Young ad talent are increasingly going beyond the standard portfolios to stand out from the pack. While sending senior creatives unusual objects and performing crazy stunts might sound like a bright idea, it's the ones that showcase their creativity that truly get noticed. Here are a couple of ideas that worked.
Gif-tastic
I don't hire a student for what they've done, I hire them for where their brain wants to go.
Kevin Weir's brain wants to go to weird places. He has a blog in his book, Fluxmachine.tumblr.com full of spooky, funny, clever gifs. Recently he's used his gif-making ability for a video, but I prefer the old 19th century photos brought to life in clever ways; images we are so used to seeing as static and musty, filled with new meaning. A creepy alternate universe given validity by the blandness of its original subject matter.
I didn't really need to see much else to make him an offer as an art director.
- Ted Royer, CCO, Droga5 in New York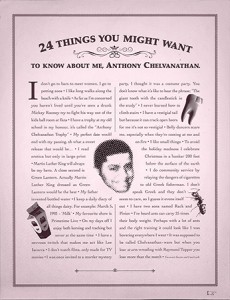 Postcard power

Like a lot of CDs, I've gotten a ton of stuff over the years from people wanting an interview or a job. To this day, only two things stand out: a crowbar and a postcard. I can't remember who sent me the crowbar, so that didn't work. As for the postcard, I got it 10 years ago, and still remember it in detail.

I wasn't looking for another art director but something about it made me want to meet this one. In the centre of the card was a picture of the art director's cut-out, smiling head. Around his floating head was type. I can't remember what it said but I remember laughing. What I liked most about it was its overall vibe: it was sincere and genuine, unlike a lot of the gimmicky stuff I get.

When I met him, he was just like his postcard. His book was good and he had a hunger to be great. I wasn't supposed to hire him. I had just hired a junior art director and was looking for a writer. But I couldn't let him go.

Ten years later, he's still at Leo Burnett and he's the best art director in the country for many years running. The smiling face on that postcard belonged to Anthony Chelvanathan. Click here to see the full-sized postcard.

- Judy John, CEO & CCO, Leo Burnett in Toronto