Red picks up Best of Show at the ACE Awards
Calder Bateman also picked up seven trophies, mostly for its STI awareness-raising work for Alberta Health Services (pictured).
On Saturday, in Edmonton, creatives and their clients celebrated advertising excellence at the 35th Advertising Club of Edmonton (ACE) Awards show. The big toppers of the evening were Red The Agency, which claimed the Best of Show for its "Dental Coverage" campaign for Merit Benefits, and Calder Bateman, which went home with the most hardware, a total of seven ACE Award trophies.
DDB Canada also did well, picking up 17 Distinctions that evening, the most of any other agency.
Calder Bateman's "Sexgerms" campaign (main picture) for Alberta Health Services was a repeated winner that evening, claiming six of the seven ACE Awards handed to the agency on stage. The campaign included print ads with taglines such as "Gonorrhoea is on the Rise," "Vagfluenza" and "Scrotoma," while the ad copy warned readers that "Her cold is just one thing you'll catch" and to be more aware of sexually transmitted diseases. It also follows the equally unsettling and top awarded campaign for the same client called "Plenty of Syph" which included a website that parodied online dating sites for people with syphilis.
The agency also took home an award for its "Dirty Dishes Skating" poster for the Christmas Bureau of Edmonton.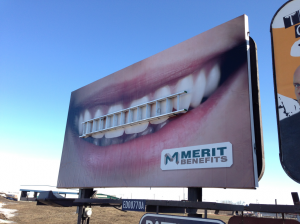 Red The Agency went home with the Best of Show as well as an ACE Award for its Dental Coverage billboard for Merit Benefits that used a ladder to represent a set of braces on a mouth full of teeth (pictured left). It also received hardware for the "Crotches Kill" texting and driving campaign (pictured right) for the Alberta Office of Traffic Safety, for which posters showed a man and a woman's face lit up above the light of a cell phone sitting in their laps while driving.
Other ACE Award winners include:
- ZGM Collaborative Marketing for its Fort McMurray Annual Report, titled "Let's Fly"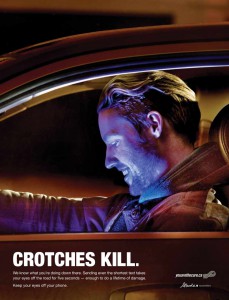 - Patton Communications' "Meet John" corporate video for ATB Financial

- Free Advertising for its "Chaotic Notebook" direct marketing campaign for Alberta Land Surveyors Association

- Versett for the logo it created for "Tavola"

- Sticks & Stones for its guerilla campaign for J. Walker, Responsible Hospitality Edmonton

- Keen Eye received two Anvils for its Skills Canada Alberta 2013 Alumni Award and the "Blow in the Dark" video creative for Keith Walker

- DDB Canada for its "Warm  Up" non-traditional campaign for The Hope Mission as well as for its art direction on the "Eye on the prize" campaign for the Art Gallery of Alberta

- El Designo for its design of the Heritage Eggs packaging

To view the full list of winners, click here.